---
From AET to Architecture
Throughout high school, Olivia Hobbs found her passion in two seemingly unrelated fields: architecture and audio engineering. With her sights set on attending Belmont University, she chose to pursue audio engineering technology (AET), unsure if her interest in architecture could ever overlap. It wasn't until a unique opportunity—and facility—beautifully illustrated collaboration between the two disciplines and allowed her to combine them in a career-launching way.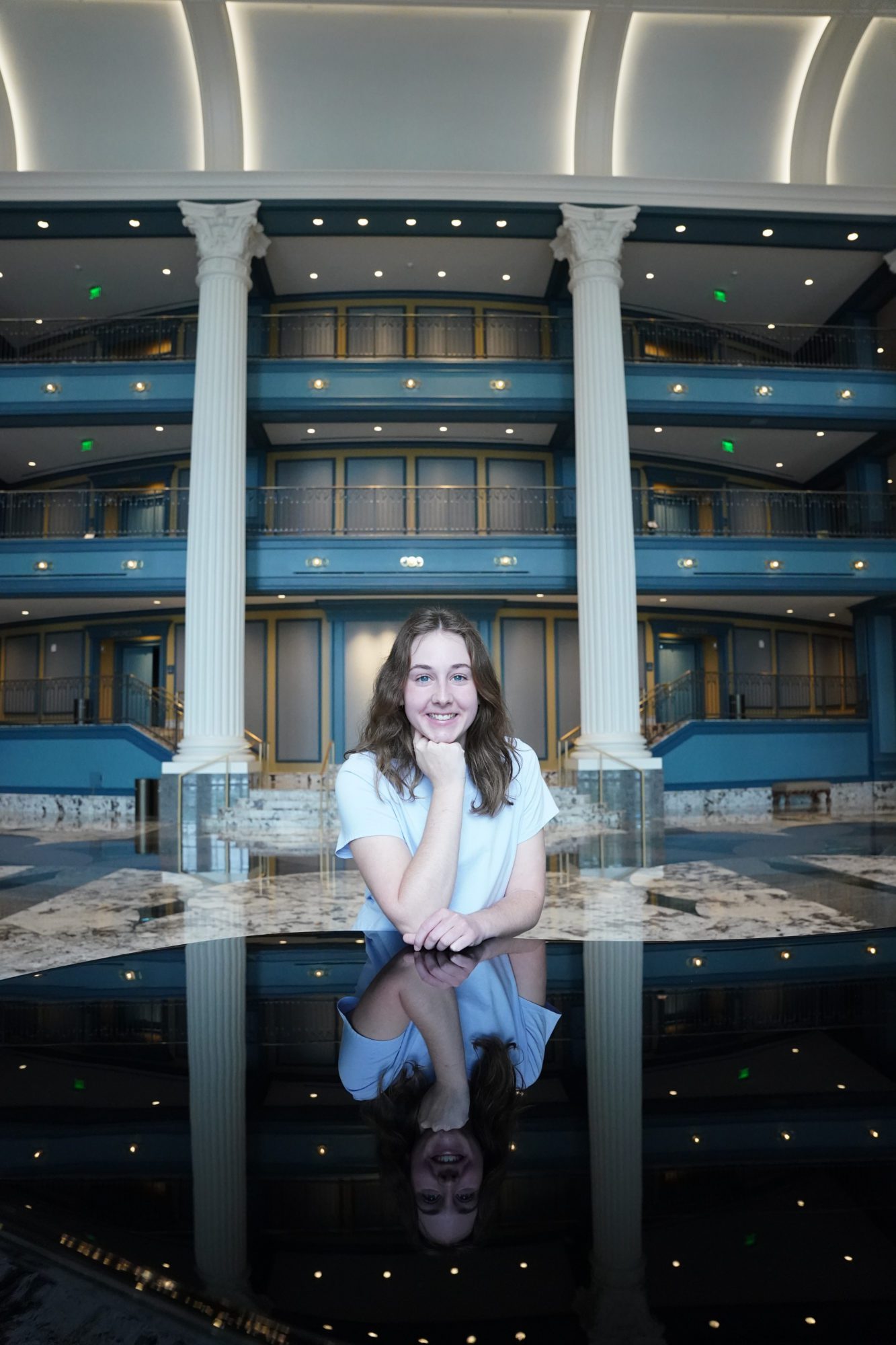 Her architectural interest was piqued during her freshman year Survey of AET course where she first learned about the important partnership between acoustics and studio design. And she was hooked. Soon after, Olivia was connected to David Minnigan, Principal with ESa and longtime Belmont architect who was working on the University's new performing arts center. The two talked by phone throughout the year, and he offered guidance as Olivia explored the possibility of changing her major to architecture. Ever interested in audio engineering, she was especially intrigued by space and the sound within a room.
"Great acoustics are part of a room, they aren't just an add on," David said. "It's integrated and collaborative." The next time the two spoke, Olivia had changed her major and was headed toward architecture. "That was thrilling to hear," David said.
Bringing the Building to Life
From there, David found opportunities for Olivia to get involved in his team's efforts at Belmont. "We were just getting into construction for the Fisher Center, so we made Olivia part of the team," said David. This immersive experience gave her a front row seat as the building came to life.
Because the project began over the summer, Olivia's mom drove her more than 800 hundred miles round trip multiple times, committed to her ability to chase a great opportunity. She spent the summer joining site inspections, room tuning and following acoustician Russ Todd, architect Randy Nale and others on the design team. "Russ became like a teacher," Olivia said. "It was a walking lecture through the hall, and I learned so much about acoustics."
But experience went beyond traditional lessons as Olivia herself became part of the tools used to test and tune acoustics. She was even the first person to sing on the Fisher Center stage. "She had the opportunity to see how the building came up from the ground, almost like an anatomy lab, but for architecture," said David.
Reflecting on the Experience
Both David and Olivia think back fondly on the experience they had to work together. Olivia was mentored through the job shadow of a lifetime, and David remains excited and energized to work alongside other students as they develop their passions. "This was a tremendous opportunity for her and for us," recalled David. "We like to hire people like Olivia who have found their spot. College is a time to grow and explore, and it's phenomenal what Belmont has been able to do–developing students who contribute to their companies immediately. By the end of the project, Olivia was skilled at different parts of acoustics, architecture language and process. It was special to see her grow that way."
Belmont's effort to provide unique opportunities for students and leverage connections in the community was an important factor in her college decision. "Because Belmont wanted to build the best performing arts center on a university campus, it created an opportunity for me as an architecture student to learn how the structure was built."
What's Next
As she continues her studies, Olivia feels energized and empowered to explore other areas of architecture. "Working on the Fisher Center was extremely beneficial to me and my future, and an experience I wouldn't get elsewhere," said Olivia. "Whatever I end up doing with architecture, I know I want to have fun with it. Russ, Randy and David have so much fun with their jobs. Even when it got hard, they still loved it. I want that kind of joy with my work."
---
Interested in Belmont's architecture program? Learn more at belmont.edu/omore.
Ready to make it official? Apply now!