The Tennessee Health Care Hall of Fame inducted its 2022 class—made up of five Tennessee health care leaders— on Oct. 18 at a ceremony held in Belmont's Fisher Center for the Performing Arts.
The Hall of Fame, which was created by Belmont University, Belmont's McWhorter Society and the Nashville Health Care Council, seeks to recognize and honor the leaders that have formed Tennessee's heath and health care community.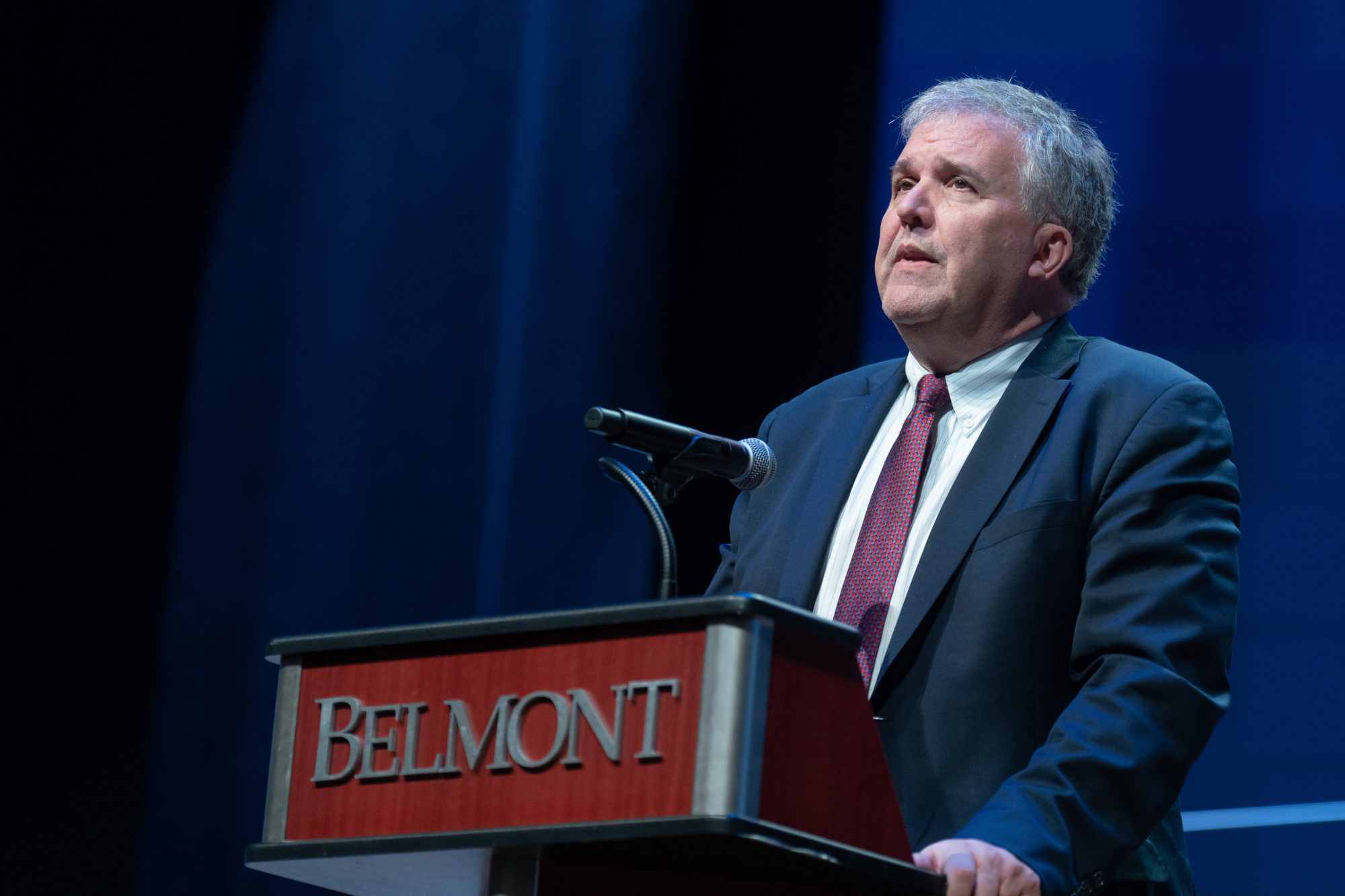 "As an institution of higher learning, with many programs in the health care sector including pharmacy, nursing, public health, social work, physical and occupational therapy, we are keenly aware of the impact and importance of health care and health care education," said Belmont President Dr. Greg Jones. "In fact, our understanding and respect of this incredible discipline is also reflected in our newly released Strategic Trajectory to 2030—where one of our Pathways is entirely focused on championing integrative health and well-being, which we all understand to be a key component in people's ability to thrive."
In addition to recognizing Tennessee's most influential health and health care leaders, the Hall of Fame serves as an ongoing educational resource to document the rich history that has contributed to Tennessee's position as the nation's health care capital.
Sponsors of this year's Induction Ceremony contribute to the long-term viability of the Hall of Fame and the McWhorter Society Scholarship Program, which benefits students pursuing careers in the health sciences. Since the inception of the McWhorter Society and the Tennessee Health Care Hall of Fame, more than $3.6 million has been raised to support McWhorter Society Endowed Scholarships, with more than 176 scholarship recipients since 2014.
Jones added, "This understanding further informs our efforts as we train our nation's next generation of health care leaders. Though we are dedicated to spending time in the classroom ensuring our students learn the technical skills that will be required of them in their careers, we are dedicated to embedding whole-person development within our curriculum—working to ensure our students also embody the integrity, ingenuity and selflessness of the individuals we recognize through the Hall of Fame."
The 2022 Tennessee Health Care Hall of Fame inductees are:
Reginald Coopwood, M.D.: President and Chief Executive Officer of Regional One Health; Former Chief Executive Officer of Metropolitan Nashville Hospital Authority; Former Chief Medical Officer of Nashville General Hospital at Meharry Medical College.

David W. Gregory, M.D.: Professor Emeritus at Vanderbilt University Medical Center; Founder, Medical Director and Chairman of the board at Siloam Health; Oscar E. Edwards National Award for Volunteerism and Community Service recipient; American College of Physicians member, 2006; 40+ year career in internal medicine and infectious disease.

Ned Ray McWherter: 46th Governor of Tennessee (1987-1995); Former Speaker of the Tennessee House of Representatives; Former member of the Board of Governors of the United States Postal Service; Led the Tennessee General Assembly to pass legislation to create a medical school at East Tennessee State University and replace the state's Medicaid program with TennCare.

Ching-Hon Pui, M.D.: Chair of the Department of Oncology and the Fahad Nassar Al-Rashid Chair of Leukemia at St. Jude Children's Research Hospital; Co-Director of the Hematological Malignancies Program for St. Jude Comprehensive Cancer Center; Director of the St. Jude China Program; American Cancer Society Professor.

Randy Wykoff, M.D., M.P.H.&T.M.: Founding Dean of East Tennessee State University's College of Public Health; Former Senior Vice President for International Operations at Project HOPE; Former Deputy Assistant Secretary for Health for the U.S. Department of Health and Human Services; Former Associate Commissioner for Operations for the U.S. Food and Drug Administration; Board-certified pediatrics and preventive medicine physician with certification in tropical medicine.

More information and a complete list of the more than 30 individuals inducted since 2015 can be found on the Tennessee Health Care Hall of Fame website.