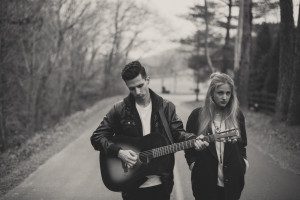 Belmont students Louisa Wendorff, junior songwriting major, Devin Dawson, senior songwriting major, Jacob Durrett, sophomore audio engineering technology major and 2014 alumna Blythe Thomas received the Christmas gift of a lifetime when their Taylor Swift mash-up was noticed by the country music star herself.
The song is an arrangement of Swift's "Blank Space" and "Style" and features Wendorff and Dawson in a folk/acoustic style duet. The video, created and produced by Thomas, showcases both singer-songwriters and the song's audio was done by Durrett.
To endorse Wendorff and Dawson's rendition of her popular songs, Swift tweeted the link to the video on Dec. 27 with one word – "OBSESSED." In addition to Swift's post, the mash-up cover has been featured on TIME, TeenVogue, Huffington Post and Entertainment Weekly, among others.
Since the song's coverage, Wendorff's EP has grown to #2 on the iTunes singer songwriter chart and #57 on the overall charts.
To view the video, click here. For additional mash-ups done by Wendorff, click here.