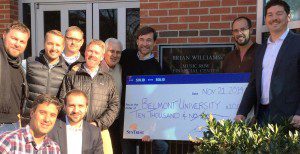 SunTrust Music Bankers swore off shaving in November and presented a check for $10,000 to Belmont's Harry Chapman on Friday, Nov. 21 to complete the endowment for The Brian Williams Scholarship. Named in honor of SunTrust's Brian Williams who passed away in 2006, the award will support a Belmont music business student.
On Nov. 14,  the team opened a Crowdrise campaign for the Williams Scholarship, and the gifts from the Music Row community came in daily. After receiving a number of generous gifts, the Scholarship reached its full endowment.
SunTrust Music Managing Director, Andrew Kintz, said, "We have been overwhelmed by the generosity on Music Row and beyond for this cause. Even teammates in North Carolina and Georgia who Brian hired stopped shaving! So many artists and people in our industry love Brian and want to honor his legacy. This is truly a gift from the entire music industry to Belmont, just as Brian is still such a gift to us – for the Division and culture he created, and the countless people he has helped."
For more information, click here.