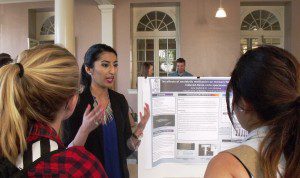 The Belmont Summer Scholars program recently hosted a poster session showcasing the research conducted by the student and faculty participants in the 2014 Summer Scholar Communities.  Summer Scholars is a program of undergraduate research in which faculty mentors in the College of Sciences and Mathematics guide students in the collection, analysis and sharing of data. It blends the structure of a summer session class with the format of a research team focused on a faculty-designed research project. The Summer Scholar Communities program students spend 16-18 hours per week for eight to ten weeks on a research project working with several other students and faculty mentors. The scholar communities gather throughout the summer to discuss their research challenges and successes.  The poster session provided a venue for sharing that experience with other students and faculty.
Dr. John Niedzwiecki mentored a group of students whose research focused on predator avoidance behavior.  These students collected snails from a nearby stream and measured the snails' ability to detect and avoid predators.  The snails were able to detect differences in type and size of the predator as well as how long ago the predator was present.  Students Nicole Knowles, Taylor Mills, Raina Burley, Sonia Kadakia and Brielle Davis worked with Niedzwiecki on this project.  These students will also present their findings at the Tennessee Academy of Sciences meeting at Walter State Community College and Belmont's Science Undergraduate Research Symposium (SURS) this fall.
Dr. Lori McGrew's research group used zebrafish (Danio rerio) to assess differences in memory and anxiety following treatment with various chemicals.  The chemicals tested by this group included: nicotine, buproprion (an antidepressant), triclosan (an antimicrobial), a pre-workout supplement and a cannabinoid-like compound.  The students were able to determine that both triclosan and the pre-workout supplement increased anxiety while the cannabinoid compound and buproprion decreased anxiety as measured in the Danios. Student researchers included Karah Parker, Iqra Wahid, Hensley Barnes, Jaime Wesley and Cassie Wyatt. These students will present their findings at the Society for Neuroscience Conference in Washington, DC as well as SURS this fall at Belmont.