In the spring and summer of 2017, students will have the opportunity to deepen their global awareness alongside their studies by traveling to various locations around the world, courtesy of the Office of Study Abroad and the work of Belmont's professors. The list of countries and opportunities that are now open for applications includes many of last year's locations in addition to several that have never been offered. New locations include India, Colombia, Honduras, Denmark and Morocco. Additionally, there are programs available in Australia, Jordan, Japan, Luxemborg and the Netherlands, none of which were offered this past summer.
Belmont's list of study abroad programs continues to grow with the compelling need to understand cultural differences in today's increasingly interconnected world. Shelley Jewell, director of the Office of Study Abroad, expressed the importance of taking time to travel and understand ways of life that exist around us. "It is more important than ever for our students to gain a broader perspective of the world and cultures that surround them. Globalization is here to stay and in order for our students to thrive in the global marketplace, they must not only have an understanding of our nation, but those around the world in order to be successful," Jewell said. "Study abroad provides a pathway towards this understanding in a facilitated academic environment driven by faculty who have a keen interest and knowledge base in a particular part of the world or issue.  Study abroad places students in experiences that are outside of their comfort zones, and this is where the true learning begins."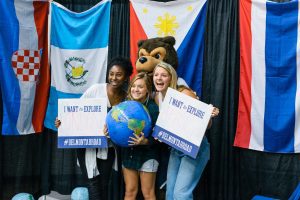 Studying abroad offers an increased awareness of global surroundings and allows students to apply what they've learned while in school. Nathan Webb, professor in the Department of Communication Studies, gave a key example of major-specific learning through the program he leads to Sweden. "When students are able to experience intercultural communication in a study abroad setting, I think it helps them understand how important and complex effective communication can be between cultures," said Webb. "We are broadening our trip to include Denmark this year, which will give students yet another point of cultural comparison."
Webb began leading the Sweden program last year and discussed the impact that it has had on him and his students. "Leading a study abroad trip is a great learning experience for me, as well. I think what I learn while taking students abroad makes me a better teacher in the classroom at Belmont." Webb also reflected on his own study abroad experience in college explaining why he feels compelled to be involved. "My study abroad experience as a student helped shape me as a human being, so I want to try to help my students have similar experiences."
Not only do faculty and staff members rave about their experiences abroad, but students also speak fondly of their programs and the people they met through the process. Junior business and corporate communications double major Lindsey Barchent traveled to London and Paris this summer and felt fortunate for the opportunity. "I loved being able to spend time with great people, see so much history and observe so many different cultures," Barchent said. "Simply observing the differences in small, day-to-day interactions really made me realize that cultures are so different from one another, but even through our differences we are able to communicate. It was an incredible experience that raised my global awareness to a whole new level."
The Office of Study Abroad hopes that an increased number of program locations will expand the amount of students who consider traveling. "We hope that we have opportunities that appeal to students from all backgrounds and academic interests," Jewell said. "The breadth and depth of opportunities at Belmont is a testament to the faculty's and institution's commitment to international education and is key to challenging students to appreciate diversity and recognize and dismiss stereotypes of different cultures."
For the full list of upcoming study abroad programs and descriptions, click here. Application instructions and eligibility guidelines for students can be found here.