Four Belmont students recently traveled to Motherwell, South Africa to spread love and the Gospel to the people of NU29, a government-provided township. Traveling with International World Changers (IWC), the students were introduced to the opportunity through Jeff and Lynne Holder, Belmont's Missionaries-in-Residence.
During their 9-day trip, the student group participated in trainings each morning on how to best speak with diverse populations and then split into groups each afternoon for service. With groups responsible for working with children, women, participating in street evangelism and hosting sporting activities, each student had the opportunity to experience ministry in a powerful way.
Participant and rising sophomore Jordan Sanders said the opportunity to travel to South Africa is one she will always look to as a major milestone in her college career. Though her time with the residents of NU29 was a wonderful experience, Sanders said her favorite memories include the students she served alongside. Though they arrived in South Africa from all over the world, the connection was instant. "It was a friendship founded in mutual love for Christ," Sanders said. "I think that's why we all became such good friends. There was no cultural barrier at IWC—we were all family by the end of the week."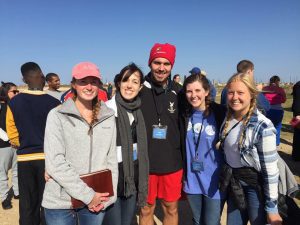 Sanders also has fond memories of her time with the NU29 children and their excitement surrounding her team's presence. "My favorite part of the day was getting out of the car and being greeted with little hugs and kisses from dozens of sweet children," she said.
Belmont senior and soccer player Nat Hubert led the sports team each day and spent the afternoons with local children. As an athlete himself, Hubert said he'd been looking for an opportunity to participate in a mission trip and IWC's was the perfect combination of what he loves. "I want to coach and this provided me another opportunity to do so in a different culture and furthered my passion for teaching what I know to younger generations," Hubert said. "Teaching the children was another way of really encouraging me that this is what I want to do."
As a social entrepreneurship major at Belmont, Sanders dreams of using her degree to make an impact and her time with IWC only solidified that possibility. "Seeing God use us, ordinary American students, to spread the love of Christ to people in a country 8,600 miles away was something that I will never forget," Sanders said. "That will inspire me for the rest of my life."