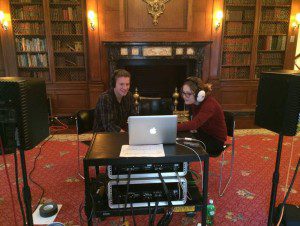 Students Hannah Cintron and Pierce Riddick are currently enrolled in Belmont's Location Recording Techniques class as part of the university's semester-long Belmont East program in New York City.
The pair recently helped set up playback and microphones for a Valentine's Day concert at America's Society, entitled "Canciones de Despecho." The artist was vocalist Lucia Pulido, accompanied by Pedro Giraudo on bass, Sebastian Cruz on guitar and Sergio Reyes on violin.
Once back in the classroom, Cintron and Riddick will mix and edit portions of the concert and experiment with various recorded tracks.