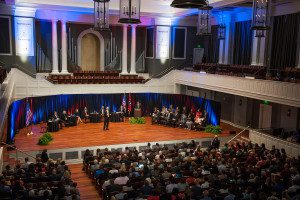 Belmont University and The Tennessean recently presented Nashforward, the city's premiere mayoral debate series, with broadcast partner, WSMV-TV. The first of two debates was held Thursday, May 21 and featured Nashville's seven mayoral candidates in a traditional debate-style event.
The second debate, structured around Nashville's ever-growing millennial demographic and organized in a town-hall style format, was held on June 18 in Belmont's McAfee Concert Hall. The event featured 14 community members, including seven Belmont students, who sat on stage and asked questions that are top of mind for voters this season, especially millennial voters.
A number of topics were discussed including education, affordable housing and transportation, among others, and candidates had the opportunity to share what their administration would value, if elected. Candidates also participated in a "lightening round" that required creative, quick-witted answers to questions like, "What country music song do you think best represents your experience in Nashville?" and others.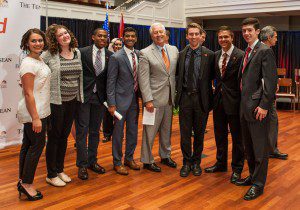 Belmont's seven student participants worked with debate moderator David Plazas of the Tennessean earlier this semester to review recent candidate interviews and write short profiles that were published both online and in print. Students were then given the opportunity to serve as the event escort for the candidate they profiled and sit on stage for the town hall-style debate. Prior to the event, students created short videos encouraging the Nashville community to tune in.
Student participant and junior political science major Hayden Rutledge said this experience was one that gave him a closer look into Nashville's local politics, while learning more about his own interests. "Through working with the Tennessean on the Nashfoward debates, I was able to not only have an impact on my community, but I was also give the opportunity to better myself," Rutledge said.