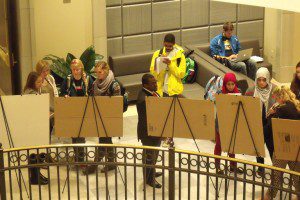 In its 11th year, Belmont's Science Undergraduate Research Symposium (SURS) was hosted by the College of Sciences and Mathematics held in the University's newly opened Wedgewood Academic Building (WAC).
SURS is the culmination of hours of work done during both the summer and fall semesters among advisors and peers and offers students the opportunity to show the Belmont community the work of the University's sciences.
Participating students set up poster presentations in the WAC's third floor atrium and presented oral reports in adjacent classrooms. Biology, microbiology, biochemistry, environmental science, neuroscience, chemistry, physics, mathematics, computer science, honors and psychological science students were represented throughout the evening.
The keynote address, "Why Talking to Your Car Can Drive You to Distraction," was delivered by University of Utah Professor of Cognition and Neural Science Dr. David Strayer.
For a full list of SURS presentations, click here.