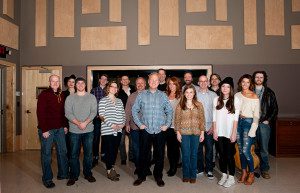 Six students from Belmont University's Mike Curb College of Entertainment and Music Business performed for the Sony/ATV Music Publishing Creative Team in historic Columbia Studio A on Feb. 23.
The students were chosen through a partnership developed by the Curb College and Sony/ATV Music Publishing called "All Access", designed to give students a pathway to share their talent and work. For more information about "All Access", click here.
Participating students agreed that the experience was an invaluable one, giving them the opportunity to be in front of music industry leaders that could significantly impact their future goals. With a focus on allowing students to step outside of the classroom and get experience in professional settings, the Curb College continually provides opportunities to supplement educational experiences with hands-on opportunities.
Belmont senior and music business/production major Ben Whisler said, "I am hugely appreciative of both the Curb College and Sony/ATV for putting on All Access and giving young writers like myself the opportunity to showcase our talent and music that we work so hard on. I think it speaks volumes about Sony/ATV as a company with a vision for success not only today, but also in the future. They hold some of the most premier catalogs in existence, but still come fully-staffed to meet with six young, unknown writers. Again, I am also thankful to the Curb College staff for helping organize an event like this, and doing everything they can to go beyond the classroom to help their students.  I am very happy and fortunate to have been a part of it."
Chair of Songwriting in the Curb College of Entertainment and Music Business James Elliott said, "This is a wonderful opportunity for our students to have their music heard. We look forward to the process and have high hopes that Sony ATV Music Publishing will discover some future hit makers at Belmont."