Led by alumna-owned New Hat, student groups spent the week creating custom art for their client
A group of Belmont art students spent five days in a masterclass earlier this month as they learned from artist experts Kelly Diehl and Belmont alumna Elizabeth Williams, owners of studio New Hat. Invited by Assistant Professor of Art Christine Rogers, the New Hat duo spent time educating students on the process of creating wallpaper, the history of the facility and more as they worked between their meetings with the client, the Belmont Mansion.
"The Mansion's Executive Director Mark Brown was graciously open to the patterns being historically referential, but the final product being contemporary and even possibly wild," Williams said. "The students were eager to learn about the entrepreneurial side of our art business, and we were impressed with their engagement, teamwork and professionalism. The level of work they were able to produce in such a small time frame was amazing."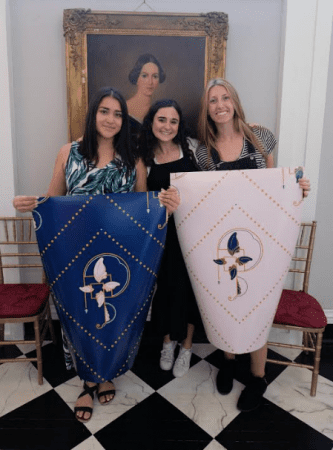 At the end of the week, Brown, his team and an additional professional served as judges while the students presented their creations — wallpaper which has been studied, dreamt up, drawn and physically created over the course of 4 days. "They had an incredibly difficult time choosing the winning design because they were all so thoughtful and well-presented," Williams said.
In the end, they went with Historico Minimo because of its playful use of color, reference to the checkerboard floor and timeless, central motif.
Williams and Diehl were thrilled to see the variety of created designs given such a challenging prompt and timeline. "We asked them to create a contemporary design in the context of an historic home which is a tall order," Williams said. "We were pleasantly surprised at how advanced the results were."
The winning design will be printed locally, and the students will get to see the process. Williams hopes to install the paper within the Mansion and hold an opening exhibition to showcase all designs.