With the help from a semester-long project by four seniors in Belmont's Honors Program, Nashville restaurant and ministry The Cookery is launching its first Cookbook. Andrew Hunt, Sarah Ellis, Jeanette Morelan and Jake Saghi created the book under the direction of Dr. Joy JordanLake in the Project LEAD program as one of four teams consulting with Nashville nonprofits.
The official launch of the cookbook will take place Wednesday, April 20 from 6-8 p.m. and will be held at The Cookery. Attendees will hear about the lives of graduates and current members of The Cookery's program, sample the restaurant's menu and have the chance to pre-order the cookbook. All proceeds will go to funding the organization's future projects.
Hunt said the project took more than two months to complete as the team worked with the Cookery to interview current participants and ministry program staff. Senior Evan Davies donated his time and expertise to produce photography of people and facilities at The Cookery. "A program like Project LEAD is great because it allows students the opportunity to live out what we learn in the classroom.  In addition to a conventional academic treatment of the ideas of leadership and teamwork, Project LEAD allows us to go out into the real world and do real work in the community," he said.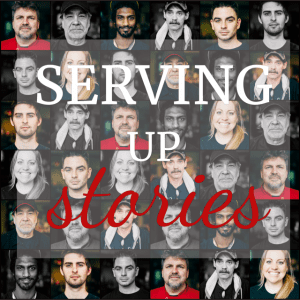 The Cookery is a culinary training center and a catering cafe for formerly homeless men that
provides training under a Bible-based program. It provides housing and transportation for its
students, Biblical application and study, while actively teaching practical and professional culinary skills. The Cookery sponsors a new group of homeless men as kitchen staff every five to seven months, training them in the culinary trade and providing housing. With catering events and engagements, the program seeks to hone participants' talents and allow them to earn income for themselves.
"It is incredible to see how this organization has helped local homeless men to learn a trade and find housing. I wish more people knew about this exciting hideaway only a block away from the 12 South bustle and Belmont University," said Ellis.