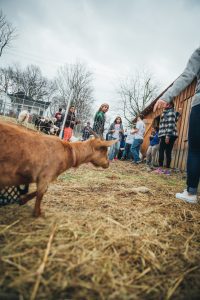 On Jan. 14, hundreds of students from 11 local universities and several area high schools gathered in the Fisk University Memorial Chapel to honor and remember the life and legacy of Dr. Martin Luther King, Jr. Members of the Belmont, Fisk, Trevecca, Vanderbilt, Lipscomb, Meharry, Nashville State, Motlow State, Volunteer State, MTSU and Tennessee State University communities signed up to spend their Saturday serving the city they share by participating in one of several service projects at sites primarily dealing with food security and service to veterans. Around 250 total volunteers were a part of the event, including 30 Belmont students. By lending a hand at organizations such as Second Harvest Food Bank, Room in the Inn and Feed the Children, volunteers were able to honor Dr. King's legacy by actively working to improve the lives of those around them.
Prior to being bussed off to various service sites, volunteers joined together to hear from several local leaders, including interim Fisk University President Frank Sims, Vanderbilt University Chancellor Dr. Nicholas Zeppos and Belmont's own president, Dr. Bob Fisher. After the welcome from university leaders, keynote speaker Dr. Ernest "Rip" Patton, Jr. spoke about his experience as a Freedom Rider in 1961 where he peacefully protested segregation and racial hatred. Patton headed for Jackson, Mississippi that May on the third bus that left Nashville and was arrested upon arrival. He spent over 60 days in Mississippi's Parchman State Prison Farm at the age of 21. Patton also spoke about his work to end segregation in Nashville by participating in sit-ins and boycotts on the streets of downtown. He recalled the day he listened to Dr. Martin Luther King, Jr. speak on Fisk's campus and how Dr. King bravely continued to speak after Fisk's gymnasium was evacuated three times for bomb threats. Lastly, Patton encouraged students to stand up for justice and to continue fighting for equality for all.
Volunteers spent approximately two hours at their service site before heading back to Fisk for personal reflection time.
"It was so rewarding to see students from so many of our campuses come together to serve," said Tim Stewart, director of Belmont's Office of Service-Learning. " It gives me hope that the 'beloved community' Dr. King spoke of, where 'love—which means understanding, creative, redemptive goodwill, even for one's enemies,' is possible."
For more coverage of Saturday's service event, view this coverage by Nashville's News Channel 5. To keep up with all of the events scheduled throughout the week in Dr. King's honor, click here.
Photo credits: Jonny Wright, Trevecca Nazarene University