"Jesus Christ and God became more real to me from my ability to walk in places where Jesus walked," said Sarah Cannavino, a rising senior and participant in Belmont's Biblical World Maymester trip. "Think about a family member who has passed away. Did you feel more emotional when you went a place they had been? That's how I felt once I was able to grasp all of what we were told and experienced on our trip."
Traveling to Israel, Turkey and Greece throughout the month of May, a group of 22 students and their two faculty leaders spent time in many cities including Bethlehem and Jerusalem. While there, students visited the Wailing Wall and the Al Aqsa Mosque, among other locations, and engaged in conversations surrounding the area's militant presence. Leader and Professor of Biblical Studies Dr. Mark McEntire points to these experiences as some of the trip's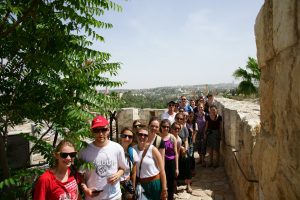 most formative.
"These are immensely disorienting experiences for our students," McEntire said. "I watch, listen and talk to them as they struggle to wrap their heads around these sets of experiences. The conversations and the questions they raise are the best part of the trip for me."
From dressing in culturally appropriate attire, to eating new foods and engaging in discussions far beyond their expectations, McEntire said the students' ability to pull themselves out of their comfort zones and engage in experiential education is powerful. "Traveling to a different place and culture requires a deliberate act of making ourselves uncomfortable. The degree of that discomfort varies from place to place, and this trip offers more than most."
Beyond experiencing their faith in ways they haven't before, the Biblical World trip allows students the opportunity to push their perspectives and engage with a culture far different than their own. McEntire said he believes in the power of study abroad for all students, but this trip offers an experience most will not have the opportunity to enjoy again. "Travel to these places is arduous and time consuming," he said. "But it makes possible moments of learning that cannot happen in other places."
Photos provided by Sarah Cannavino.