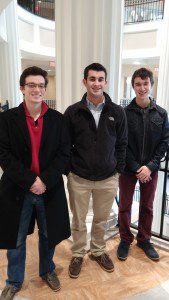 Belmont students Emily Bukowski, Jesse Bobick, Riley Walters and Skyler Schmanski recently participated in activities of the Tennessee Intercollegiate State Legislature (TISL), a mock legislature comprised of the top echelon of Tennessee's collegiate leaders and Tennessee Intercollegiate Supreme Court (TISC), the judicial branch presiding over the Appellate Moot Court Collegiate Challenge (AMC3). Since its conception in 1966, TISL has provided students with a platform to advocate for issues they believe in through the organization's Senate, House of Representatives and Supreme Court.
Bukowski, Bobick and Walters served as magistrates for the AMC3 competition, and Schmanski served as both a magistrate and senator in the mock State Legislature.
TISC's Nominating Commission also selected Walters to serve as one of five 2015 TISC Justices.  Schmanski was appointed by TISL to assume the role of Attorney General.