When the models strut the runway at the annual Fashion Show by O'More College of Architecture & Design this evening, the spotlights will be up, the makeup retouched and the looks perfected. The show after all is a highly anticipated culmination of four years of hard work by students in the studio from conception to finishing snips and hems. But before the design students could fully complete their projects this term, they first needed to hear from individuals who have experienced homelessness.
This year for inspiration, each designer paired with a visual artist from Daybreak Arts, a social enterprise nonprofit that creates artistic and economic opportunities for people experiencing homelessness and housing insecurity. The designers looked to the Daybreak artwork as muse by studying their acrylic on canvas to mixed media. But in addition to learning about the work, Daybreaks Arts founder and Belmont alumna Nicole Brandt Minyard said it was important that the artists also share their perspective on clothes and fashion as people experiencing homelessness.
"It's more about survival and not so much expression," said Kateri Pomeroy, who lived homeless in Nashville for four years. Comfort or imagination and confidence in style are not readily available. "You don't really have that choice."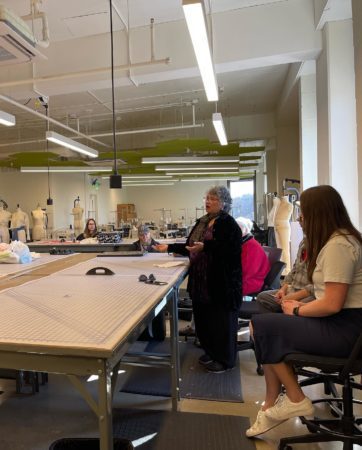 The group from Daybreak spoke with students about ingenuity on the streets as well as challenges and what they missed — like pajamas. "Because when you're homeless and sleeping in a tent, you have to get covered from head to toe in all kinds of stuff so you don't freeze," Minyard said. Another challenge: Durable clothing or losing a sense of control by wearing what's available. "It's really hard to be able to express yourself through your style and fashion, and a lot of times the way that you look is how people end up treating you. As the students were thinking through and designing these projects, we wanted them to have this understanding."
The collaboration with Daybreak Arts continues a tradition of O'More partnerships with local nonprofits. In 2017 and 2019, for example, the students worked with GiGi's Down Syndrome Achievement Center to design items accessible to Down Syndrome youth and adults, who in turn modeled the pieces at the show.
The partnerships help highlight the transformative possibilities of design and its ability to foster self-expression — to show a creative spirit as fundamentally human for all. It gives students real-world experience in learning how design can be crafted with purpose to nurture internal vision, cultivate external empathy and develop skills to dream of — and work toward — a better world.
"Graduates have shared that the most meaningful design experience during their time in the program has been when challenged with designing for others with a need, and making a positive impact in people's lives," said Jamie Atlas, Chair, Fashion Design & Merchandising at O'More. "Past students have continued to remain in contact with the friends they made during the design challenge, and big smiles are seen on their faces when they see them still wearing the custom outfit at an event. That is what makes our program special."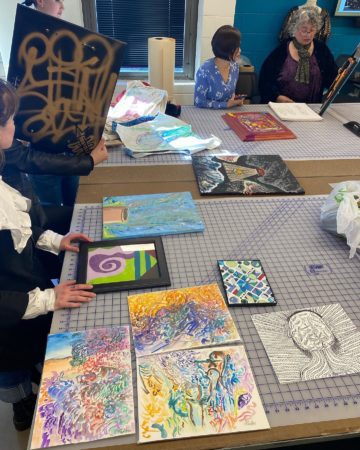 Pomeroy plans to attend the fashion show where she will see a new iteration of her art on the runway — art created from art. Her piece also will be available for sale. But she says she can't imagine her mixed media piece represented as a garment just yet.
Meanwhile, though, Kat Westmoreland, a student at O'More, has been making the final adjustments to her design based on Pomeroy's piece. "I was super excited I was given her as an artist," Westmoreland said. During a final fitting with the models, Westmoreland stepped back to admire her work: "That's the look." 
Westmoreland and Pomeroy were "kindred spirits" over color and process, she said. Their conversations were less about deficits and more about strengths and commonalities as creative people. 
"What I really loved about her is I felt like we immediately had a connection," Westmoreland said. "We're both really driven by color, and one thing I feel like we had in common was our shared love of detail, which is kind of like a 'duh' in design. But I felt like I saw a strong intentionality in her work." 
Pomeroy sometimes sources scrap wood for her art. "So her piece was layered geometric wooden shapes that she had cut out," Westmoreland explained. "She had painted them a variety of different neutral, earthy tones but had incorporated a black and a really bright turquoise. Her work played a lot with proportion and shape, very geometric and a lot of depth with the layering…I like that she was able to express so much emotion essentially using layered shapes and very saturated colors."
After doing some research on fashion forecasting sites, Westmoreland came up with a long black shirtdress. "Black, because that's the base color used in [Pomeroy's] piece, with a really high collar," which Westmoreland said can mirror the geometry in the art. "Then I had the idea to do a long patchwork vest – almost like a dress to pull over the black dress. To source, I went to places like Turnip Green Creative Reuse and Smart Art and I sourced knit pieces in the colors she chose, and I mapped out geometric shapes and patchworked them together to kind of represent that layer and texture that's found in her piece."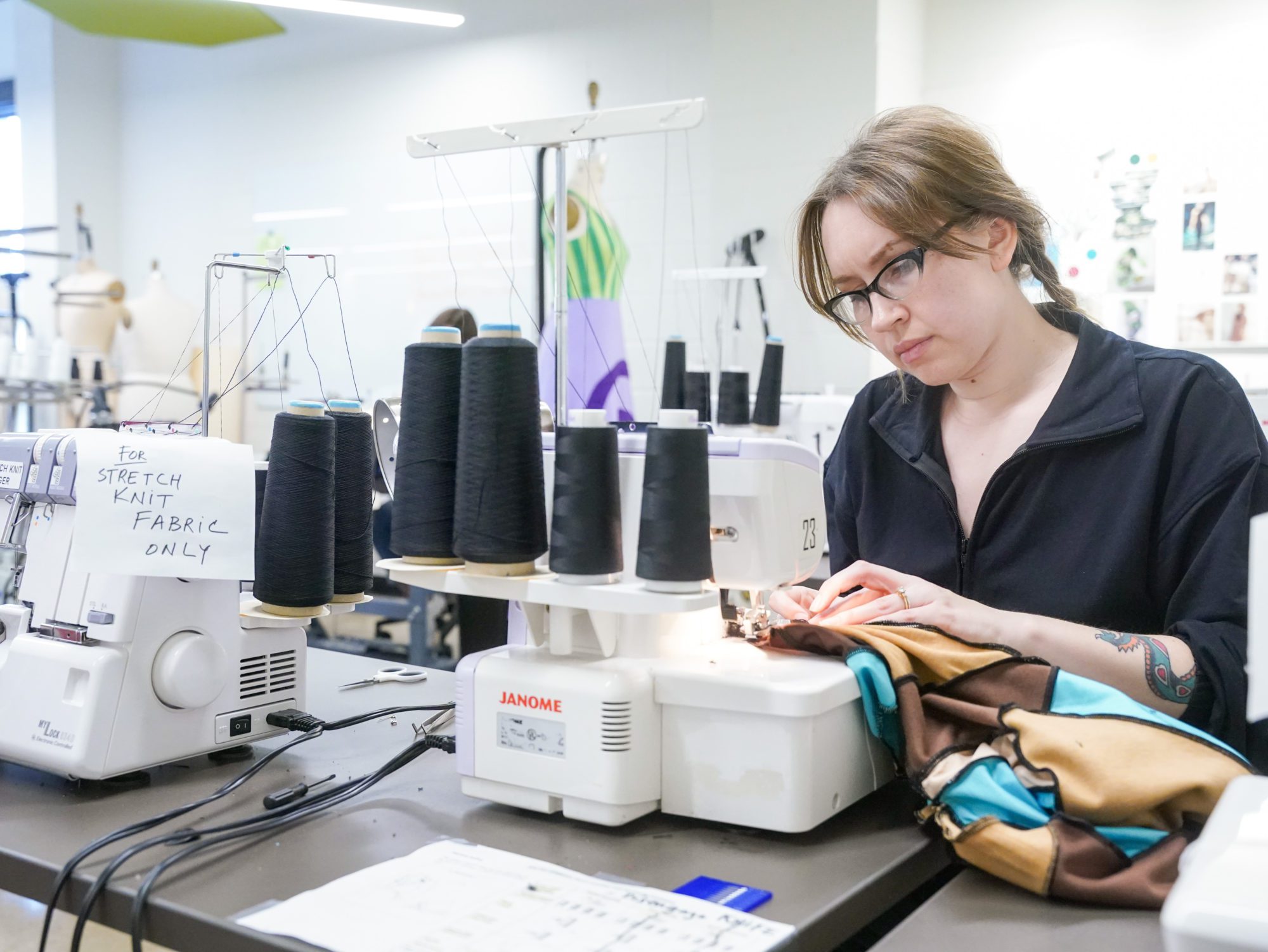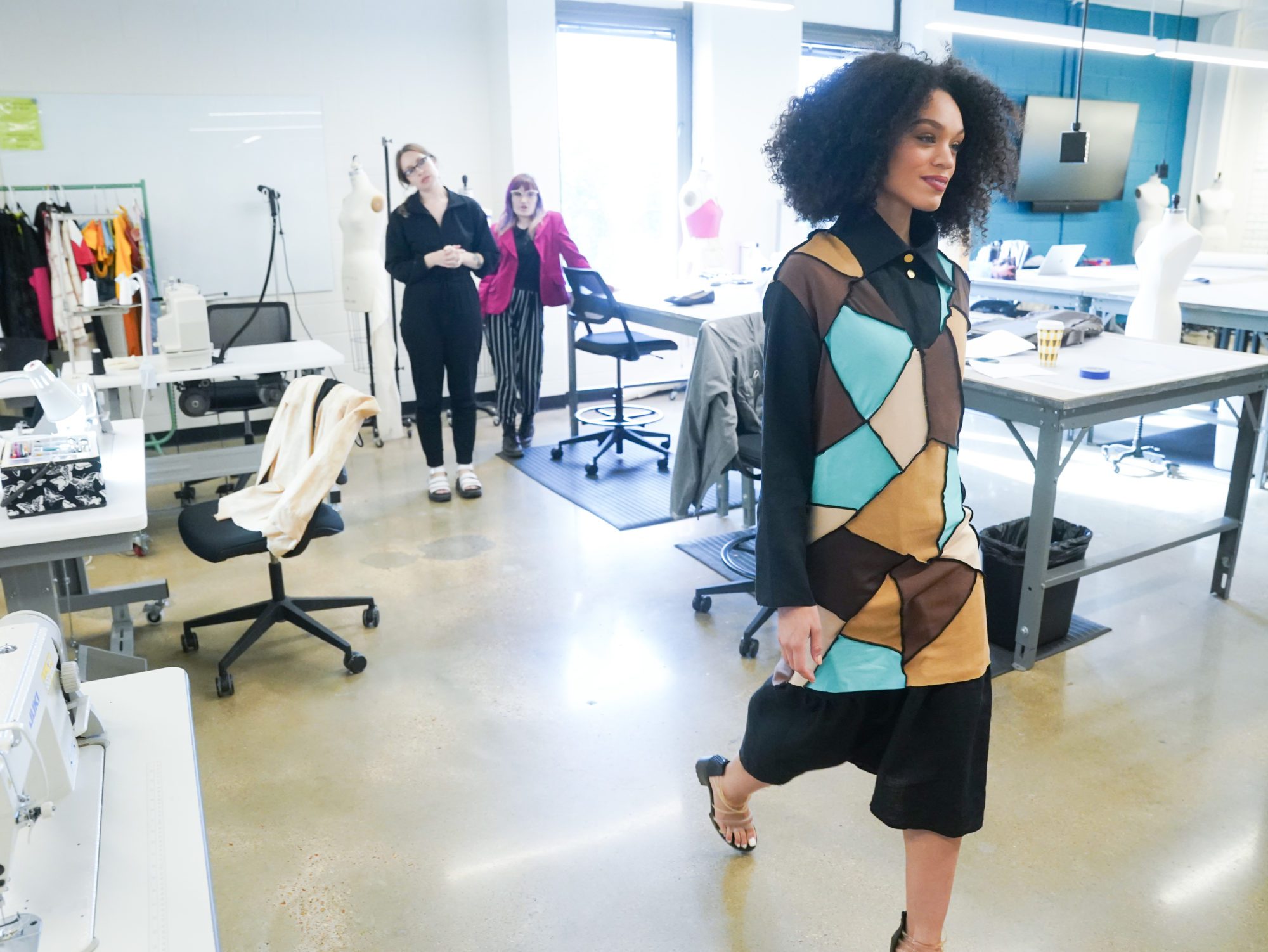 Minyard says she loves seeing people find common ground over art. At the O'More visit, for example, she watched another artist, a 72-year-old Black woman who had been homeless, in conversation with younger college students. "It was really powerful to just overhear commonalities and shared experiences — whether that was with fashion, art, being human, whatever, is always so meaningful to me."
While the fashion collab is a first for Daybreak Arts, the nonprofit has partnered with many other groups in the community such as Nashville Design Week during its nearly 10-year history. 
Minyard says the concept for Daybreak Arts grew out of experiences in her hometown in rural Kentucky followed by a work-study program at Belmont.
"I grew up with pretty stereotypical narratives told to me about homelessness," she said. "My senior year [in high school] I got connected with a guy who went to homeless campsites and tents. It was this opportunity where it flipped the power dynamics, and I was a guest in their space and there to learn from them and not really there to, like, serve them or bring them anything — just to kind of get to know them."
Minyard moved to Nashville in 2010 for school at Belmont and began planning community service projects for students as part of her work-study. "I really wanted to figure out a way to recreate that experience, but I didn't know where any homeless camps or tents were…I started playing with this idea that art could be that space in which we become equals, and we not just engage with people outside of our socioeconomic backgrounds through service, but through creativity."
She invited Belmont students into work she was doing at Room In The Inn to create music, visual art and creative writing with the homeless participants. Then participants began to ask how they could sell their art in coffee shops or obtain permitting for street vendor licenses. Her nonprofit, originally named Poverty and the Arts, grew out of those questions and experiences. 
"One of the things that we love is being able to highlight our artists' natural talents and creativity and the things that they already possess that God gave them," she said. "A lot of times when you're homeless, and you're in survival mode you feel very dependent. When you interact with the community you know they're there to give you stuff, and it kind of feels one-sided. So, one of the things we really try to do is to show our artists you have things that you can offer and contribute to the community, and you just need that platform."
Pomeroy, for example, discovered Daybreak Arts while participating in early iterations of the program at Room In The Inn. She has been with the organization from the start. Nowadays, her pieces have been purchased for commercial display at places like local dentist offices. And yet, this fashion experience will be a new one for her. 
"I never realized that your art could be used in a fashion design," she said. "It boosts your confidence and inspiration that people are seeing your work wearing your design — a feeling of being recognized and valued."