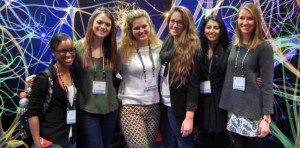 Belmont Neuroscience Program Coordinator, Dr. Lori McGrew, took six students to the annual meeting of the Society for Neuroscience, held in Washington, D.C., Nov. 15-18.  The students included Hensley Barnes, Lauren Sheppard, Karah Parker, Iqra Wahid, Jaime Wesley and Cassie Wyatt, a group that has conducted research with Dr. McGrew utilizing zebrafish. They presented a poster showcasing their findings during the conference's Faculty for Undergraduate chapter meeting.
The conference is an international gathering of over 31,000 neuroscientists who share their latest findings including labs surrounding a streptococcus bacteria, oxytocin's influence on social memory and interaction, cellular and molecular mechanisms for memory and an inspiration presentation on Dr. Nicoll's journey to becoming a renowned electrophysiologist, despite his severe dyslexia.
For more information on conference highlights, click here.