A group of students recently hit the road to join their professor, musical legend and co-founding member of The Turtles Mark Volman for the East Coast run of the Happy Together Tour. Created as a summer course, the 10 participating students will spend time in their "classroom" for nearly three weeks in June–a tour bus, hotel rooms, stages and countless green rooms. Starting in Biloxi, Mississippi, the students will follow the tour through Florida and back up to Virginia, New Jersey, Massachusetts, New York and Pennsylvania before ending in Hampton Beach, New Hampshire.
Under the guidance of Volman, assistant professor of entertainment industry studies and staff adviser Lucas Boto, the students are working with touring artists and crew professionals in tour management, stage management, audio engineering, tour accounting and merchandise sales. Additionally, students will get hands-on experience each day as they participate in load-in, setup, tear-down and load-out. These hands-on educational avenues outside of the classroom provide networking opportunities with some of the industry's finest while allowing students to gain an understanding of the revenue flow from music consumer to touring performer.
"The Happy Together Tour class gives students a chance to experience life on the road and see principles taught in the classroom put into action," Boto said. "Without touring experience, it can be difficult to secure a job on the road, but this allows those interested in this line of work to try it. Touring long term is a lifestyle commitment, and that's hard to convey without experiencing it.  Getting to hear stories and learn from legendary '60s artists like Mark Volman is icing on the cake."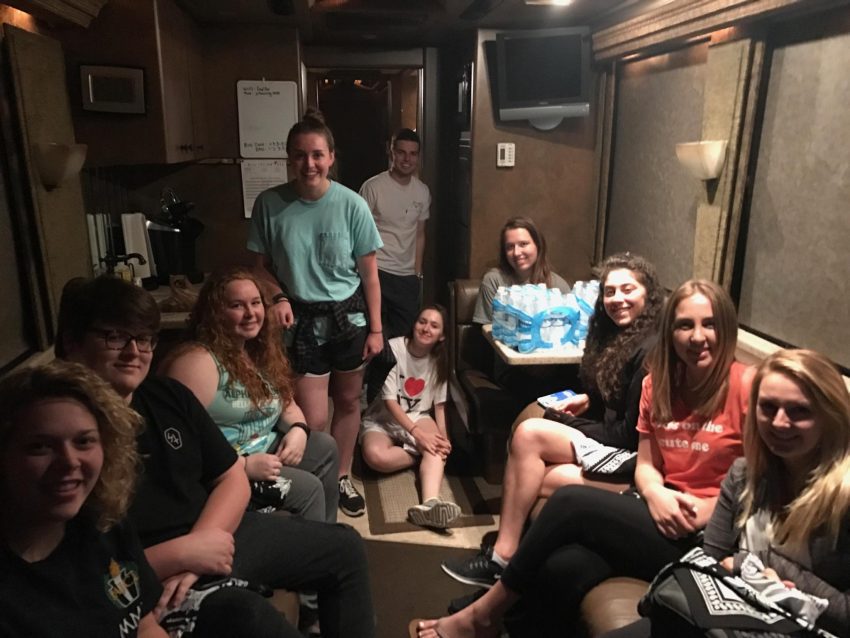 Junior audio engineering major and tour participant Kaitlin Barnett has been interested in a career in the music industry since she was kid and the opportunity to hop on the Happy Together Tour was a dream she's had for years. "Before even coming to Belmont, I had my sights set on this tour, because I thought it would be the perfect way to know if the road life was really for me," she said. "I was ready to give up my summer in a heartbeat for this amazing opportunity."
Just days into the experience, Barnett has already worked with lights, merchandise, photography and stage managing. Daily, students are assigned a new position, giving them the chance to experience every part of life on the road. But it's not just the opportunity to work on a tour that's exciting. "My favorite part so far is waking up in a new city every day and learning about the industry all across America," Barnett said. "The relationships I am forming with the crew, bands and my classmate are really rewarding."
The 2017 Happy Together Tour is named for The Turtles's 1967 chart-topping single. It unites several pop/rock artists of the '60s on stage, starring The Turtles featuring Flo and Eddie, The Association, Chuck Negron (formerly of Three Dog Night), The Box Tops, The Cowsills and The Archies starring Ron Dante. Students will work 15 shows on the tour including:
June 9          Imperial Palace                                  Biloxi, Mississippi
June 10        Ruth Eckerd Hall                               Clearwater, Florida
June 11         Florida Theatre                                  Jacksonville, Florida
June 13         Mayo Performing Arts Center        Morristown, New Jersey
June 14         State Theatre                                      New Brunswick, New Jersey
June 15         Calvin Theatre                                    Northampton, Massachusetts
June 16         Theatre @ Westbury                         Westbury, New York
June 17         The Palace Theater                            Albany, New York
June 18         Music Hall                                          Tarrytown, New York
June 20         Bergen PAC                                        Englewood, New Jersey
June 21          Keswick Theater                                Glenside, Pennsylvania
June 22          Penn's Peak                                       Jim Thorpe, Pennsylvania
June 23         Community Arts Center                   Williamsport, Pennsylvania
June 24          American Arts Theatre                    Lancaster, Pennsylvania
June 25         Hampton Beach Casino                   Hampton Beach, New Hampshire
For more information on tour details, click here.