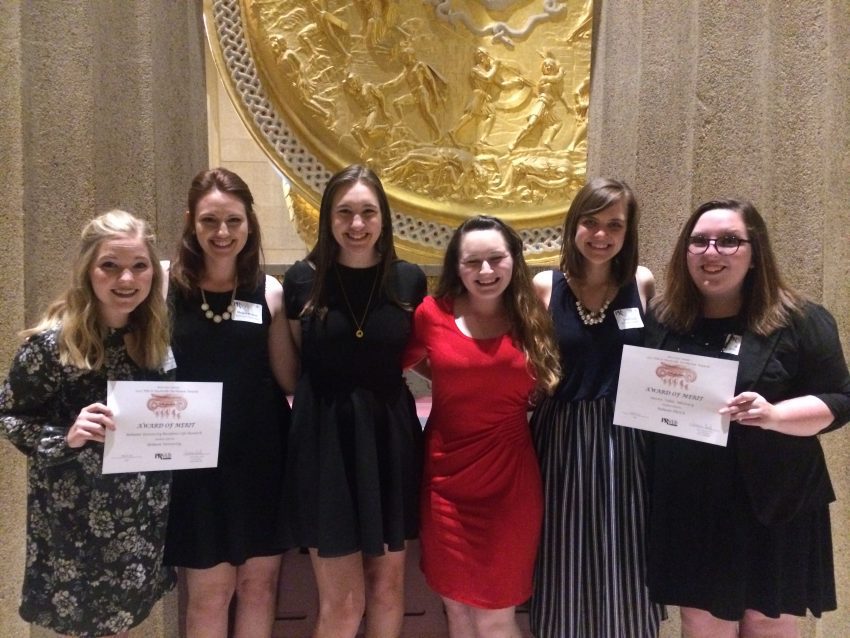 Two entries by Belmont University students and alumni received awards at the recent Public Relations Society of America Nashville Chapter's 31st annual Parthenon Awards. The event was held at the Parthenon at Centennial Park to recognize the best work produced by area public relations professionals and students in 2016.
Receiving Awards of Merit in the student entries category were Callie Edwards for her "Belmont University Residence Life Research" project and Lindsey Barchent, Haley Hicks Charlton (alumna), Julia Couch (alumna), Haley Hall (alumna) and Jessica Martin (alumna) for the "Success. Value. Advocacy" campaign they conducted for the Students Veterans of America in spring 2016. The two projects were produced in public relations classes taught by Dr. Christie Kleinmann.
Edwards, Couch and Hall attended the annual awards event and assisted in welcoming attendees to the sold-out event. Belmont students Cayli Allen, Jenna Corradeno and Megan Heiner also served as volunteers at the event, assisting in handing out awards.
Dr. Bonnie Riechert, chair of the department of public relations, made the award presentation for the Nashville Chapter's Hercules Award to Jackie Cavnar, recognizing sustained contributions to the chapter, the profession and the community. Riechert was the recipient of the award last year.
The event was attended by 220 area public relations and communications professionals. DVL Seigenthaler received the Best of Show Award. The PRSA Nashville Chapter is the professional sponsor of Public Relations Student Society of America Chapters at Belmont University, Austin Peay State University, Lipscomb University, Middle Tennessee State University and Western Kentucky University. The Public Relations Society of America (PRSA) is the nation's largest professional organization serving the communications community.