Three student start-ups are walking away with major cash prizes and an opportunity to pitch their businesses at LaunchTN's 36/86 technology conference in June after wowing a panel of judges at Belmont University's annual Business Plan Competition. The March 15 contest gave 10 student businesses the chance to compete against one another in an effort to win over the support of the audience and eight judges.
Each start-up was given six minutes to pitch their idea followed by a two minute "Shark Tank" style Q&A where they answered the tough questions their potential investors passed along. Participants were then judged based on characteristics including their ability to grab the audience's attention, how well they defined their problem and solution and the justification they gave for their team's ability to succeed. Prizes were given for first-third place in addition to a "People's Choice" award, decided by audience votes.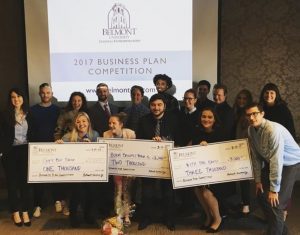 First place was student Sarah Perry's start-up "With the Band," which won her $3,000, a subscription to Entrepreneur Magazine and a membership to Nashville's Entrepreneurship Center. With the Band aims to establish a deeper connection between both established and up-and-coming artists and their fan bases by putting the artist's social media posts, touring information, ticket sales and music in one place. The idea allows fans to be a "VIP" follower of their favorite artists while also allowing for interaction with other VIP fans.
Following closely behind in second place and also receiving the People's Choice recognition was Bloom Brightly Paper Company, a business pitched by Annabelle Bright and Jacob Kissamis. The company sells greeting cards that have an unusual twist—they are filled with plant seeds that allow the cards to be planted into the ground instead of tossed into the trash after the occasion ends. So far there are several cards available for Christmas, birthdays and thank you notes, each having an environmental design. Bright and Kissamis currently sell the cards for $6.50 each and allow customers to choose between wildflower and basil seeds. The duo was awarded $2,000 and a prize package for their unique pitch.
Third place recognition and $1,000, plus a prize pack, went to Kendall Warren for her start-up Gift Box Drop, an online retail store that aims to make gift-giving fast and simple. The store lets consumers buy boxes filled with a variety of different items based on the occasion (e.g. weddings, baby showers, Father's Day) and offers to ship the gift directly to the recipient.
As an addition to each of the top three winners' individual prizes, each start-up will be eligible to pitch their business at LaunchTN's 36/86 conference in June at the Schermerhorn Symphony Center downtown. The four-day-long event is Tennessee's premier entrepreneurial conference, and it will provide students with the opportunity to gain feedback from more industry professionals.
This year's Business Plan Competition was made possible largely by an award that the University received through LaunchTN's University Venture Challenge (UVC) Program. The program aims to support universities across Tennessee in their entrepreneurial opportunities for students. Belmont received the largest monetary award of any university across the state, which consisted of $4,000 for competition prize money.
The contest aims to give students the opportunity to network with and learn from industry experts in an effort to help them further develop their business plans. Director of Belmont's Center for Entrepreneurship Elizabeth Gortmaker said of the annual event, "This is a wonderful opportunity to practice pitching, network with other entrepreneurs and receive feedback from experts. Any student who participated received feedback from the judges, attending faculty and other students. It is so valuable to be able to put together a pitch and present in front of a large audience. The judges were ready to support the students in any way they could, and we had some amazing prizes that will provide business-building resources to our students."