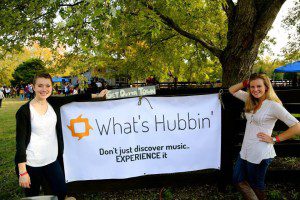 What's Hubbin', a company run by Belmont juniors Channing Moreland and Makenzie Stokel, was recently named as one of eight start-ups selected to take part in Project Music, the Nashville Entrepreneurship Center's (EC) most recent accelerator.
Created last year, Project Music was born of a partnership between the EC and the Country Music Association to support and encourage entrepreneurial innovation throughout the music industry. Project Music is the first music and technology business accelerator that has come from the EC.
The program will begin on Jan. 18 and will run for a 14-week period. What's Hubbin', along with the seven other participating start-ups, will receive a $30,000 capital investment in exchange for an equity stake in their company. Program investors include Digital Entertainment Ventures, Google, Creative Artists Agency, Ryman Hospitality Properties, Universal Music Group, DevDigital, Red Light Management and Galante Entertainment.
What's Hubbin' is a company that focuses on bringing the local music scene to individual Nashvillians in a personalized way, based on their musical preferences. Users can view a calendar of local venues and stay updated on the happenings of Nashville music via the company's blog.
After launching last September as part of Belmont's accelerator and debuting at the University's Entrepreneurship Village, What's Hubbin' co-founder Moreland said Belmont has been hugely involved in the company's success. "Belmont has given us the opportunity to really move forward with our idea," she said. "Belmont enabled our startup because we are focused on college students as our main demographic, and it was really important that we have access to the Belmont students."
The team is excited to start with Project Music for many reasons. Aside from the connections and capital investment that will come from the experience, Moreland said she is also grateful to have specific time laid out to work on the company. With a full school schedule and competing priorities, she said it has been challenging to find time to do it all. Additionally, Moreland said she is grateful for the community she is in and the other participants she will be able to learn from.
"We love working in Nashville because the people are incredible," she said. "Everyone is so genuine and truly wants to help better each other's projects. We will have the opportunity to work alongside seven other amazing companies and learn from them, and we believe this will be a very beneficial experience."