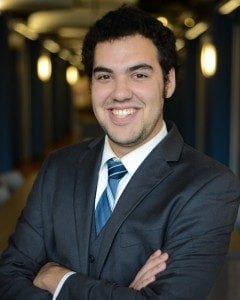 Geoffrey Gross, a senior computer science major and mathematics minor, was recently selected as a finalist for the Nashville Technology Council's (NTC) Technology Student of the Year. Each year, the NTC seeks to recognize the individuals throughout the Nashville community that are leading the charge on technology and pushing the boundaries on what has previously been done.
The Technology Student of the Year is one of many awards that will be announced on Jan. 22 at the NTC's Annual Gala.
A student leader on campus, Gross is involved in many things outside of the classroom. During his time at Belmont, he has been a member of Alpha Tau Omega, a national fraternity known for community service and leadership, the vice president of Belmont's Mathematical Association of America and Association of Computing Machinery chapter and a Young Life leader, a Christian outreach organization that works with high school students.
In his nomination submission, Mathematics and Computer Science Professor Dr. Glenn Acree said, "[Geoff] is a caring and curious young man with a strong mind and a bright future. Geoff is equally talented in mathematics, as he is in computer science. This combination, along with his ease of communication, creativity and work ethic, will serve him well for a successful future in our technology community. I cannot imagine a better representative for the technology students in Nashville."
For a full list of NTC's awards and nominees, click here.