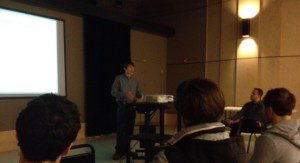 Graduating senior Benjamin Shaw, mathematics and audio engineering technology double major, recently spoke at the Music City Chapter of the Acoustical Society of America (ASA) meeting, held in the historic Nashville recording studio, Columbia Studio A.
Shaw presented his senior research work on acoustical measurements and simulations of the control room for the studio. Ben's research, supervised by Sal Greco of Belmont's Ocean Way Studios and Associate Professor of Physics, Dr. Scott Hawley, evaluated the frequency response of the room and made recommendations for improvements.  To do this, he used a sophisticated open source acoustical simulation program, run on Dr. Hawley's 24-processor research workstation.
The talk was attended by members of the ASA and Belmont communities.  Those present remarked on the professionalism of Shaw's presentation and how it was among the finest undergraduate research presentations they have seen .
In May, Belmont University and the Curb Family Foundation announced the completed renovation of Columbia Studio A as a classroom and hands-on learning lab for students in Belmont's Curb College of Entertainment and Music Business.