Mackenna Swann has overcome many obstacles in her life, but none of them have slowed her down or stopped her from pursuing her passions. Originally from California, Swann now studies at Belmont and focuses on learning and growing as an artist.
Growing up, Swann was an active kid and involved in several different sports like track and soccer, but her interests didn't stop there. Swann says she always had an interest in singing but was too shy to pursue it. But it was because of her involvement in sports specifically that Swann began to realize something was wrong with her knees. "When I was 11, I started to experience pain and swelling in my knees after track meets and soccer games," she said. "My parents took me to an orthopedist, and I was later diagnosed with a rare bone condition."
After being diagnosed, Swann went through three different surgeries. These surgeries had long periods of recovery, leaving her non-weight bearing for three years. But Swann did not let that slow her down. She focused on keeping her physical strength up for when she could walk again.
"I wanted to walk more than anything," she said, "but I knew that it would require a lot of strength, both physically and mentally. While in bed, I did sit-ups and leg raises to strengthen my muscles to the best of my ability. Part of what helped me look on the bright side during my recovery process was my faith in God that was strengthened through putting my trust in Him."
A middle school student when all of this happened, Swann saw other patients in the hospitals that were also going through struggles, giving her inspiration and a special outlook on life at a young age. "I had a very strong appreciation for life," Swann commented. "In the hospitals, I saw other patients who didn't have legs or who had 13 surgeries instead of three. I am honored to meet people like them; they inspire me every day."
Swann never thought she would be an artist when she got older, but soon she realized she had a passion for the visual and performing arts. At home in her wheelchair, Swann began to fall in love with music and art. Her teachers would come to her house and help her cultivate this new found passion. It was moments like these that led her to be an artist, and thus to Belmont.
It was also during her recovery period after her knee surgeries that Swann began to write songs. She says that she, "wrote many songs during that time that came from a very deep place and are the foundation of the songs I write as an artist today. The pain that I went through during that time has made me want to be an artist of substance, to give inspiration to those who go through pain of their own."
Possessing a strong passion for singing, songwriting and art, during her senior year of high school Swann began to look for a school that would allow her to explore and grow in these areas. Ultimately, she decided Belmont was the place to pursue her passions even more.
"I chose Belmont University because of its encouraging community, popular music program, religious affiliation and opportunities to pursue visual arts," Swann said. "This school is paradise for me, and I am having the time of my life growing as an artist and person."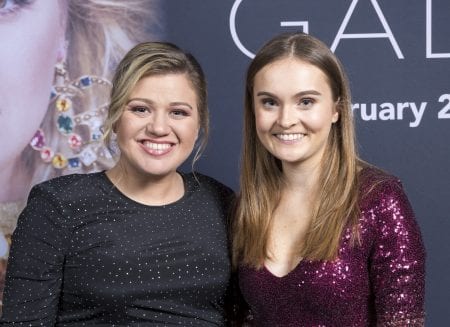 A freshman commercial music major planning to switch to songwriting, Swann had the honor of performing at the Children's Hospital of Orange County (CHOC) fundraising gala earlier this year. This opportunity included sharing her story and getting to open for singer Kelly Clarkson. When Swann got the call about the chance to perform at the event, she could not believe it. "I was so in shock," she said. "I had been in and out of CHOC my whole childhood, and it was humbling to be chosen to represent a community that is so close to home."
At the gala, which took place on February 2, Swann shared her story of her rare bone disease and performed along side Voices of Hope Children's Choir from "America's Got Talent." The event ended up raising almost $4 million dollars for the hospital.
"The experience of opening for Kelly Clarkson has opened my eyes to an infinite world of possibilities about how I can use my talent to inspire others," Swann commented. "I am very excited to continue to pursue my passion at Belmont University, and I am looking forward to the adventures to come."