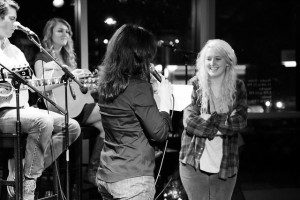 The American Society of Composers, Authors and Publishers (ASCAP) recently honored Belmont freshman songwriting major, Kel Taylor, as the 2014 winner of the ASCAP Foundation Bart Howard Songwriting Scholarship during November's installment of the ASCAP Belmont Songwriters Showcase, held Tues., Nov. 11. Taylor's song,  "Nashville," was selected by music faculty and Belmont University as the best song submitted for the competition, based on overall craft, artistry and compositional elements.
This tuition scholarship recognizes the talent, professionalism, career potential and musical ability of a songwriting major. Bart Howard (1915-2004) penned over 200 songs, including "Fly Me to the Moon," which has been performed by Frank Sinatra, Ella Fitzgerald and many others. The program is made possible by the ASCAP Foundation Bart Howard Fund.
For more information, visit Taylor's website here.