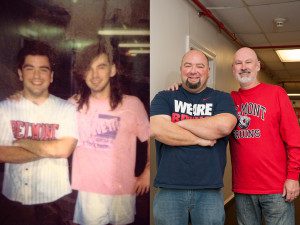 Scott Carpenter, a Belmont student that will graduate today with a degree in liberal studies and music business, began his career at Belmont in 1991 as a freshman. On move-in day that year, Carpenter met Rob Jones, a fellow freshman and Pembroke Hall resident who would quickly become one of his closest, long-time friends.
From 1991-1995, Carpenter and Jones were roommates and Belmont students together until Carpenter was offered a full-time job as a traveling drummer and couldn't turn down the opportunity. Because of that, he left Belmont before completing his degree.
Almost 20 years later, Carpenter said he decided to find the time to go back to school and complete his degree for his 2-year-old daughter. Jones returned to campus today to celebrate graduation with his long-time friend. The pair wanted to go back to Pembroke Hall to reminisce on their college days, as well as recreate a special memory.
Taken by a family member on move-in day, the two have a photo of themselves from 1991. Before graduation today, the college buddies stood in the same spot they did 20 years ago and retook the photo. Although many things have changed for the pair since their move-in day many years ago, Carpenter said he and Jones have continued to remain close friends.