Belmont student entrepreneurs recently competed in the Global Student Entrepreneur Awards (GSEA) hosted by the Entrepreneurs' Organization Nashville. The competition, which took place at Nashville Entrepreneur Center, featured a total of five students who were chosen to compete.
Belmont students Sarah Beth Perry, Ryan Reisdorf and Jordan Washington participated in the competition along with students from Rhodes College and the University of Tennessee.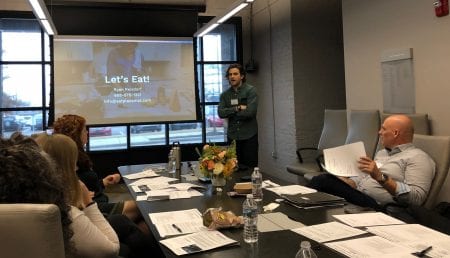 Perry won first place in the competition, along with a check for $3,000, for her startup With the Band and will move on to compete at the GSEA national competition in 2019. Reisdorf took third place with his business Placemat.
"I'm so proud of the work these three students did," said Elizabeth Gortmaker, director of Belmont's Center for Entrepreneurship. "Once again, a Belmont student won Nashville's GSEA competition!"
GSEA is a premier awards program for students who own or operate a business while attending college or university. Student entrepreneurs compete against peers in a series of local and national qualifying rounds to make their way to the global finals that will be held in Toronto, Canada next year. EO's GSEA program provides students an opportunity to learn from fellow entrepreneurs and form lasting relationships with both students and prominent entrepreneur judges. Over the years, participating students have gone on to expand and build businesses, create thousands of jobs and generate millions in revenue.