Belmont's Division for Student Formation has been busy with several large events that kickstarted the Fall 2022 semester.
To get involved in these events and all the Office of Student Engagement is doing, reach out to studentengagement@belmont.edu.
Bruin Link Fair
The annual BruinLink Fair was held on September 1, involving more than 170 student organizations and campus departments. Hundreds of new and returning students attended the events, meeting organizations from several different categories – Academic/Professional/Honor Societies, Action/Politics/Cause-based Organizations, Community Service Organizations, Faith Development Organizations, Fraternities and Sororities, Interest-based Organizations, Music/Entertainment Organizations and Recreational/Club Sport Organizations. 
In addition, Residence Life (as part of its "Best Week Ever" programming) hosted the first "BruinLink County Fair" in conjunction with the event, allowing students an opportunity to play with baby goats, jump into inflatable games and enjoy fresh lemonade.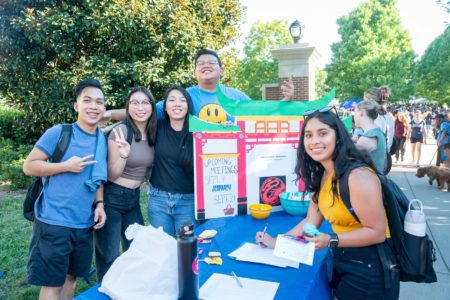 With almost 190 active student organizations, the BruinLink fair never fails to be a convenient and efficient way for students to get involved with student organizations that align with their interests, passions and hobbies.
Detailed information on Student Organizations is always available for students, faculty and staff on BruinLink. Students who are interested in starting a new student organization can apply by November 15 (to get started in the spring semester) and April 15 (to get started the following fall) each academic year.
It Must be Wednesday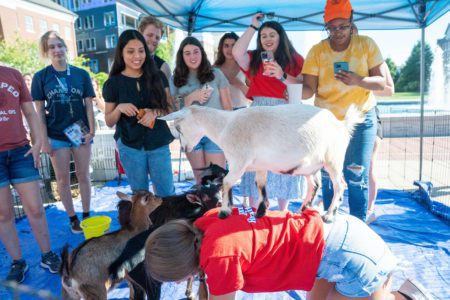 The Division of Student Formation collaborated with various campus partners to engage more than 200 students through the first It Must Be Wednesday of the 2022-23 academic year on Wednesday, September 7.
The It Must Be Wednesday event aims to introduce students to campus and community partners by providing free coffee and encouraging social wellness and community engagement on a weekly basis throughout the first and last six weeks of the academic year.
The It Must Be Wednesday model has been enhanced for its second year to host one partner from the following categories each week:
Community Service Partners
Employer Partners
Nonprofit Partners
Minority-owned Businesses
Alumni-owned Businesses
Neighborhood Businesses (those within walking distance of Belmont)
Campus Offices and Departments
Student Organizations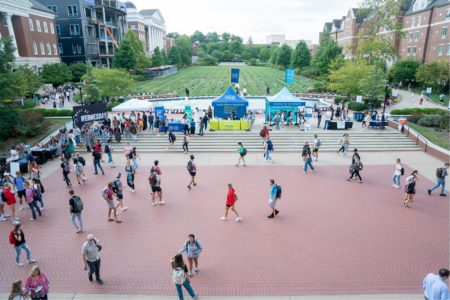 The first event featured popular vendors including Ladybird Taco, TNT Goods, The American Foundation for Suicide Prevention and more, all in addition to Frothy Monkey – the source of the weekly cold brew coffee.
Students can expect to find additional It Must Be Wednesday events on Wednesdays from 9:30 – 11 a.m. on Freedom Plaza until Fall Break and after Spring Break this year.
Greek Week
Fraternity and Sorority Life (FSL) students at Belmont worked together to create a week full of events focused on collaboration, community and fellowship this semester the week of September 13-16. Chapters were split into groups and tasked with creating events open to the FSL community.
Panhellenic Vice President of Programming Lyndsay Sams collaborated with members of every chapter and helped plan all the events. 
"I have loved getting to plan Greek Week for the second time! This year, we grouped up the chapters, so they were able to work together to produce some amazing events! These events are a great way to bring all eight of our Greek chapters on campus together to spend time in fellowship and collaboration with one another," Sams said. "I have learned a lot about myself and the other chapters on campus through this position and I am so grateful to be a piece in the puzzle of Greek Week!"
The events included:
Kappa Alpha Theta and Delta Sigma Theta Sorority, Inc. planned a Lawn Hang with lawn games and popsicles on September 13.
Phi Beta Sigma Fraternity, Inc., Phi Mu and Phi Kappa Tau hosted a cereal bar titled "Lucky Me, I'm Greek" on September 14.
Belmont's NPHC ("Divine Nine") chapters hosted an informational session, "Meet the Greeks," for students interested in joining an NPHC organization on September 14.
Alpha Sigma Tau, Alpha Kappa Alpha Sorority, Inc. and Alpha Gamma Delta decided to host a week-long event called Sock Wars. Students were split into teams and tasked with tagging members of the opposite team to get them out.
The week concluded with a FSL Informational session on September 16.