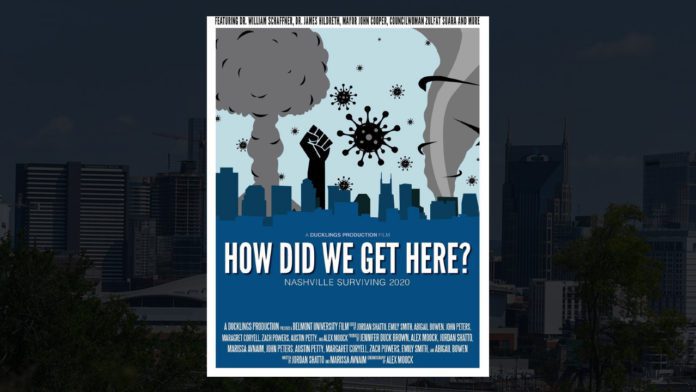 "How Did We Get here? Nashville Surviving 2020," the 32-minute documentary film created by a small group of Belmont students, was recently selected for the Switzerland International Film Festival, a festival for filmmakers of all skill levels. Although the film did not receive a win, the students were thrilled to be recognized internationally for their hard work.
"How Did We Get Here?" was also an official selection for the May 2021 New Creators Film Festival in the Best Student Short category and an official selection for the Nashville Film Festival.
The film chronicles the unique string of crises that struck Nashville in 2020 and touches on the fundamental question, "How did we get here?" The small crew had to pull the project off in just 13 weeks while navigating the new challenges of filming during COVID-19 and a limited budget. Read more about the crew's process on a previous Belmont News story.
Complete crew bios and more explanation of the process for creating the documentary can be found on the film's website, www.hdwghfilm.com.