Belmont's Student-Athlete Advisory Committee (SAAC) is working to #breakthestigma through their creation and implementation of this week's Mental Health Awareness Week, a week of events aimed at bringing the Belmont community together in the push to de-stigmatize mental health.
Over the past few years, mental health has become a major topic in the NCAA given an increase in tragedies related to mental health struggles. SAAC's "Break the Stigma" campaign seeks to change the cultural understanding of mental health by changing the conversation.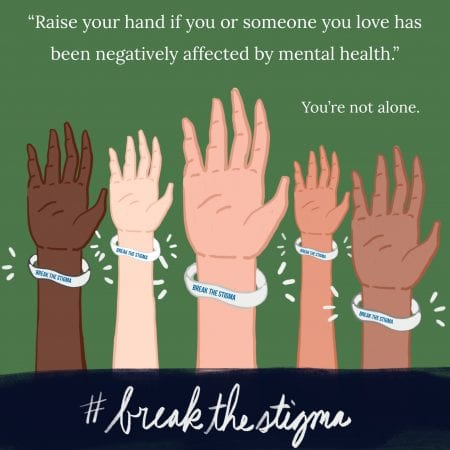 Ellie Ivancich, representative for the OVC on the National Division I SAAC and president of Belmont's SAAC, said, "As competitors, our instincts tell us that we must fight through the pain as if fighting to win a match, no matter the consequences. This is a very dangerous mindset to have. Therefore the hope is that we can help cultivate a different mindset surrounding mental help that will encourage people to understand that it's okay not to be okay, they are not alone, and they are worth it – so speak up!"
The week's events include:
Wednesday, March 21, 7 p.m.: Mental Health Conversation with former TN Titan Dave Ball in the Vince Gill Room
Thursday, March 22, 7 p.m.: Join SAAC for yoga!
Friday, March 23, 4 p.m.: Men's Baseball vs. UT Martin will be the Mental Health Awareness Game! Wear green all day to show your support!
This week's events are not limited to student-athletes. "We see the need for all people," Ivanchich emphasized. "Mental health struggles are not cookie-cutter. Each struggle is unique… and each of those struggles is valid and deserves attention."
Through Mental Health Awareness Week, SAAC wants Belmont to know that there is power in numbers. "Together, we have the power to Break the Stigma," Ivanchich said.