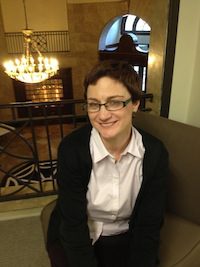 Assistant Professor of Entertainment and Industry Studies Sarita Stewart has had a busy few months.
Stewart recently wrote a chapter in the 3rd edition of Research Methods in Communication entitled,  "TV, Radio and Music Research," with co-authors Dr. Louisa Ha from Bowling Green State University and Jeff Green of Stone Door Media Lab. The book came out in February through Vision Press and is available for the fall 2015 semester.
In March, Stewart presented two papers at the Midwinter Association of Education in Journalism and Mass Communication. On May 14, she was part of the Music Educators Meetup panel at the Music Business Association. Stewart and the other panelists gave presentations on their music business programs, which evolved into a group discussion among a number of music educators of current teaching trends in this type of program.
Most recently, Stewart was quoted in two articles in the San Francisco Chronicle on her perspective about the future of music streaming. In response to Apple's recent release of Apple Music, a streaming service similar to that of Pandora or Spotify, Stewart is quoted saying, "The future of music is streaming, so in order to remain competitive … they need to enter this space. I think it's a really exciting development and it really means (streaming music) has gone mainstream. We're getting to the point where more people are actively using it."
And of the many features specific to Apple, Stewart added, ""They are taking the best of the different elements. They have been able to see some of the pitfalls in the current models, and they might be able to bring in different elements to circumvent those challenges."
To read the second article, click here.