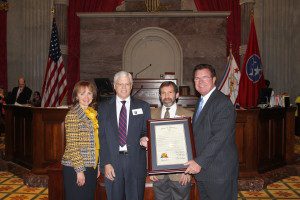 Tennessee legislatures recognized the Homework Hotline at Belmont for students' "exemplary service to their community as volunteers" with a resolution passed on Jan. 30 at the state capitol. Since fall 2012, Belmont students have served as a volunteer satellite of Homework Hotline, practicing teaching techniques while providing one-on-one tutoring to at-risk children.  Belmont University volunteers provide meaningful service to the community while they grow as educators and community leaders.  For the Fall 2013 semester:
Over 30 Belmont University students participated.
Five Federal Work Study students served as "Lead Tutors" and worked 10 hours per week.
Hours served varied according to Service-Learning requirements for various courses.
Volunteers and Community Service students (sororities, fraternities, clubs, etc.) participated.
The Belmont Center provided 168 hours of tutoring during the semester.
Because of Belmont's semester start  and training startup, the University's program didn't begin until after Labor Day. Belmont Homework Hotline was several weeks behind MNPS' schedule in starting, but was still able to take more than 200 calls from students in grades K – 12th, and successfully resolved more than 85 percent of those calls. Any Tennessee student can call the toll-free number, and 42 percent of the calls to Belmont came from Nashville-Davidson County students.  Math, especially middle school grades, is the most sought-after area of assistance, and 61 percent of the calls Belmont students handled were math questions.
Thirty Belmont University students took calls during the Fall 2013 semester. Volunteering proved especially popular among students without cars as the tutoring takes place on the Belmont campus.  Volunteer tutors gain an in-depth understanding of the public school curriculum and the needs of children, learn teaching and communications techniques (valuable for education majors), improved their self-efficacy, and increased their engagement in the community.