Riding the high of their sweeping win at the Tennessee Intercollegiate Forensics Association's statewide tournament in February, Belmont's Speech and Debate team triumphed at the Pi Kappa Delta National Comprehensive Speech and Debate Tournament in Philadelphia, March 15-19.
With over 1,500 entries and 70 teams, Pi Kappa Delta is the country's largest comprehensive national tournament. Belmont's national competition team of seven students brought 35 entries and fared extremely well against some of the nation's top schools, such as Western Kentucky University, the University of Alabama and Ohio University.
The team earned the title of Division II National Champions, a first in Belmont's history. As individual competitors, the team surpassed several other records:
13 events advanced to National Quarterfinals (Top 24 in the nation; a Belmont record)
8 events advanced to National Semifinals (Top 12 in the nation; a Belmont record)
5 events advanced to National Finals (Top 6 in the nation; a Belmont record)
8 Excellence Awards were given to Belmont students who placed in the top 30% in their events but did not advance to final rounds.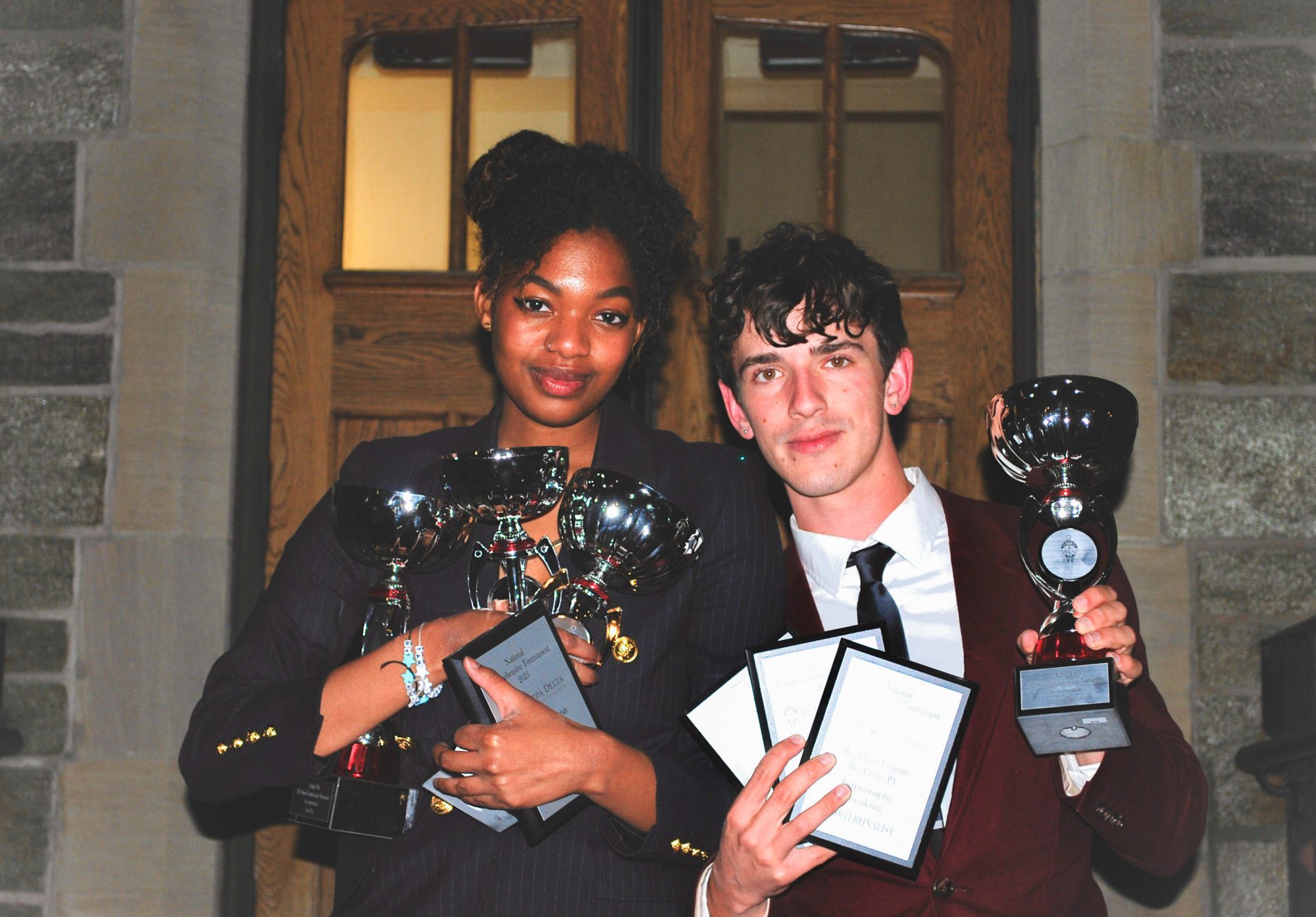 Aaron Kleinschmidt, senior double major in Spanish and international politics, made final rounds in Duo Interpretation with junior double major in music and public health, Alisa Osborne. Osborne also made the final round of Dramatic Interpretation and secured 9th place overall speaker in the nation, setting a Belmont record. "I love exploring current issues and being able to change minds through storytelling," Osborne said. "When people leave the room having experienced a wave of emotions and a new perspective, I know I've done my job."
The events are split up into four categories: debate, public address, limited prep and interpretation. Debate competitors have 30 minutes to prepare and debate on a new topic each round. Public address requires students to present self-researched and written 10-minute speeches, whereas the speeches in the limited prep category are prepared and delivered within a set amount of time. Interpretation requires students to perform a 10-minute piece from various scripts, books and articles.
Both Osborne and Kleinschmidt were speech competitors in high school, making this achievement a long time coming. "My first tournament in 2016 literally made me want to run away," admitted Osborne. With the help of supportive coaches and teammates in college, her confidence in public speaking grew immeasurably. "What is the worst fear of millions is now one of my greatest joys," she said.
Kleinschmidt, who also made final rounds in several other categories, echoed the sentiment of the team's encouraging community. "This activity requires you to put your heart out on the line—the hours we spend doing that each week help foment a trust unlike any other."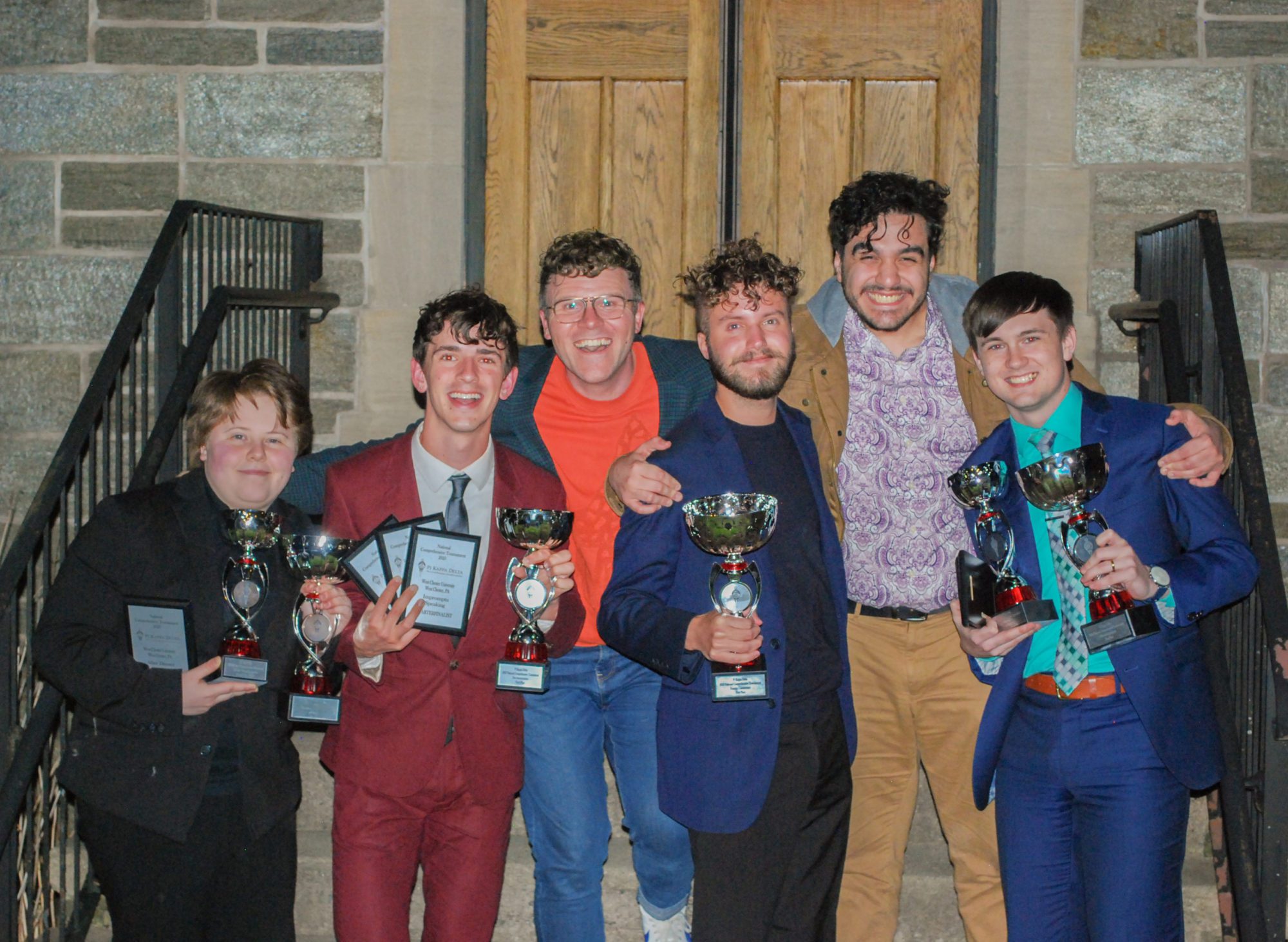 The students' dedicated work—memorizing, blocking, researching, writing, rehearsing and advocating for causes they care about—paid off and reinforced Belmont as a powerhouse in the speech and debate circuit.
Individual Awards:
Luke Litz: National Champion in Editorial Impromptu, National Champion Best Debate Speaker in Nation, IPDA Debate Quarterfinalist, Excellence Award in Interviewing
Max Caskie: National Champion in Extemporaneous Speaking Commentary, 2nd Best Debate Speaker in Nation, Editorial Impromptu Quarterfinalist; IPDA Debate Octofinalist, Excellence Award in Interviewing
Alisa Osborne: 9th Overall Speaker in the Nation,3rd in the Nation in Duo Interpretation (with Aaron Kleinschmidt), 5th in the Nation in Dramatic Interpretation, Duo Interpretation Semifinalist (with Jasmine Pettus), Excellence Award in Interviewing
Aaron Kleinschmidt: 3rd in the Nation in Duo Interpretation (with Alisa Osborne), Semifinalist in Rhetorical Criticism, Quarterfinalist in Impromptu Speaking, Quarterfinalist in Prose Interpretation, Excellence Award in Dramatic Interpretation
Jasmine Pettus: Semifinalist in Duo Interpretation (with Alisa Osborne), Quarterfinalist in Programmed Oral Interpretation, Quarterfinalist in Poetry Interpretation, Excellence Award in Interviewing
Sarah Carvalho: Semifinalist in After Dinner Speaking, Excellence Award in Interviewing, Excellence Award in Impromptu Speaking, Excellence Award in Prose Interpretation
Team Awards:
Division II Overall National Champions
2nd Place In Division II Individual Events
3rd Place In Division III Debate