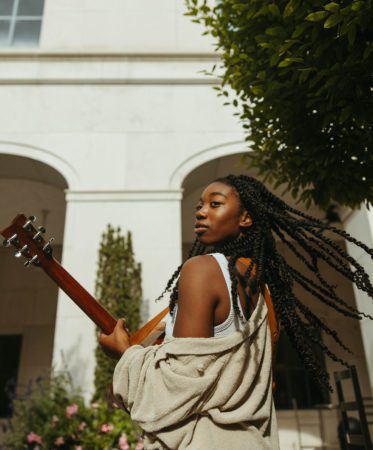 In September, sophomore commercial music major Esther Okai-Tetteh joined fellow creatives from the Nashville Music Maker Cohort of Apple Creative Studios in the Roots Theater at the National Museum of African American Music (NMAAM) to showcase their projects to family and invited friends.  
NMAAM partnered with Apple to sponsor fifteen creatives aged 18-24 for a five-week program. Apple Creative Studios is an initiative for young people from underrepresented communities that provides mentorship, training and resources that wouldn't be easily accessible otherwise. Creative Studios expanded to seven more cities around the globe this fall, with Nashville as a new launch site.
"We were just in awe the entire day," Okai-Tetteh said. "They told us, if you finish the program you get to keep all the gear. I was like, of course I'm going to finish the program."
The Belmont sophomore was provided with a MacBook Pro equipped with Final Cut Pro, Logic Pro and Spatial Audio, Air Pods max, a microphone and access to Apple Music studio as a member of the Nashville cohort.
Before coming to Belmont, Esther was an accomplished songwriter who won the NafMe Student Songwriters Competition in 2020. She never envisioned herself doing anything separate from music and made the decision to attend Belmont to study commercial voice with an emphasis in music business. "With that comes very specific challenges like having to prove that this is a worthy career or forgiving the doubt," she said.
Her undergraduate experience so far has not only served her professionally through classwork and opportunities like Apple Creative Studios, but the Nashville native is also being developed on a personal level. "When I first got here doubt was my best friend. I did not want to put myself out there because I thought there was someone better than me," Okai-Tetteh said. "But there always is. I think that forgiving the doubt that is trying to come into my life has been the biggest journey."
Her time with Apple Creative Studios helped enhance her production abilities, and peer support continues to help navigate Music City's competitive market. "If someone has a music video coming out, they send it in the group chats and we all go watch it," she said. "We all go stream it. If someone has a show, we'll be there in the front row.
Esther attributes much of her feelings of being grounded and rooted on campus to Belmont's Black Student Association (BSA). Okai-Tetteh's parents are from Ghana, and she has spent most of her education attending predominantly white institutions (PWIs).
"Going to a PWI, it was hard to navigate who was part of the shared experience I had," she said. "Finding the group that understood what it's like to be in those spaces for a long period of time or a long period of your life and not being against you for it warmed my heart."
The songstress says that her two music genres are Americana and Neo-Soul. She is most inspired by the Americana artist, Yola, who is from Ghana and has similar physical traits with Esther's mother who is also her musical inspiration.
"Representation is so powerful," Esther said. "It's activism to be able and willing to put yourself in a space that a majority of a group will say is not for you. Some little baby who looks like me is going to look up at me and say, 'She looks just like me. I want to be like her, because I can. Because that's possible for me.' That's what YOLA did for me."
Esther is a 2021 YoungArts Alumna, and her band "Fly to the Sun" has music on Spotify. She hopes to use her music to inspire others and be an agent of representation and activism in the future.