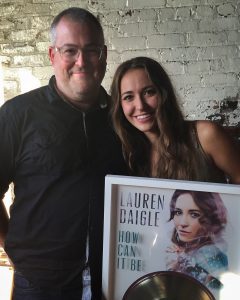 Mike Curb College of Entertainment and Music Business Lecturer in Songwriting James Tealy (Thiele) recently received recognition for his contribution to Contemporary Christian artist Lauren Daigle's album, "How Can It Be." The album was certified Gold by the Recording Industry Association of America (RIAA) in August, making it the second album of Tealy's songwriting career to receive a Gold Award. In order to receive this Gold certification, Daigle's album had to sell a minimum of 500,000 times. Tealy's contribution came in the album's song "I Am Yours," which he co-wrote with Daigle and several others.
Over the course of Tealy's career, he has had songs cut by major artists across several different genres. Some of these artists include Josh Wilson, Kari Jobe and Chris August. Tealy has also had some of his songs appear in television programs and films across the globe on networks such as NBC, CBS, Fox Sports and more.
For a longer list of song cuts by Tealy, check out his website.