Beginning on April 6 and lasting through April 9, Belmont University's Social Work Club organized and implemented an interactive art project in Nashville as part of the international Unity Project movement. The event was aimed at reducing division in the community by visually showing how all lives are interconnected and related.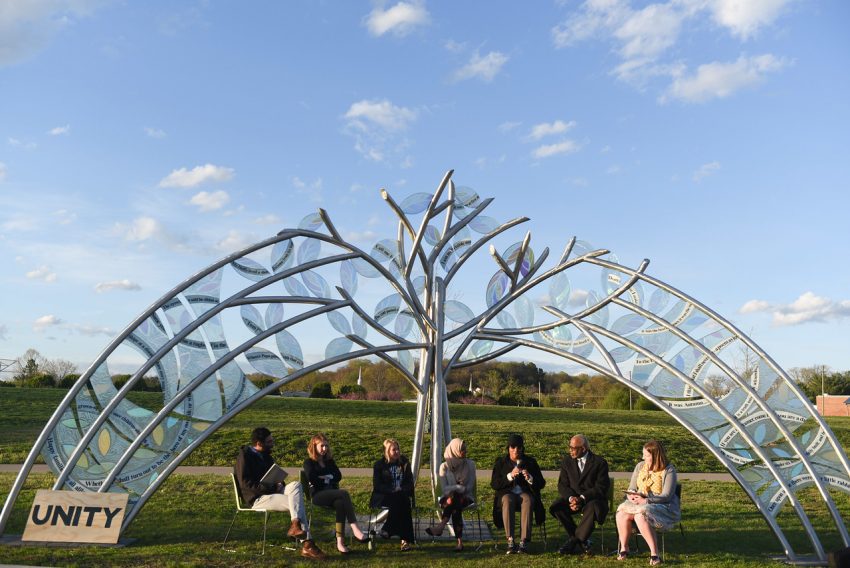 The event was held at the Bellevue Branch of the Nashville Public Library and began with an opening ceremony that featured a panel discussion led by local community members on matters of diversity and inclusion. Panelists included Belmont's Chief of Staff and Vice President Dr. Susan West, Vice Chancellor for Equity, Diversity and Inclusion at Vanderbilt Dr. George Hill, Education and Street Chaplaincy Coordinator for Open Table Nashville Lindsey Krinks, Community Relations Manager at Tennessee Immigrant and Refugee Rights Coalition Leah Hashinger, Belmont student Jasmine Niazi and a representative from Conexión Américas.
After the opening ceremony, the interactive art project was open for public participation during normal library hours and was constantly supervised by Belmont students until the closing ceremony, held on April 9. The art project consisted of 32 poles placed in a circle, with each pole representing a unique identifier (culture, ethnicity, race, religion, etc.). Participants were invited to wrap colorful yarn around the poles they identified with, connecting themselves with the growing piece. Once complete, the yarn formed a cohesive web of interconnectedness to show that community members have more similarities than they do differences. The closing ceremony featured a poetry reading, music by a local artist and a group discussion on diversity, which was led by Associate Professor of Social Work Julie Hunt.
Belmont student Kate Patterson initially came up with the idea to bring the Unity Project to Nashville after being inspired by her participation in a Unity Project in Washington D.C. last June. Patterson was the main student involved in organizing the event and was present throughout the whole event.
"The Social Work club and I have been working out the details for the event for several months. It was rewarding to see the event take place after so muc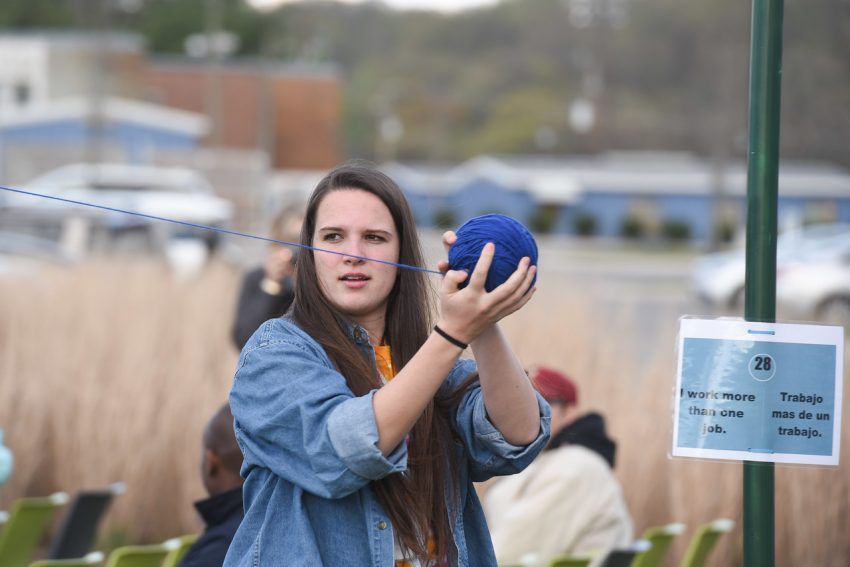 h planning," Patterson said. "The panel discussion at the opening event was powerful to hear how organizations across Nashville value working together with various populations for a common goal of promoting the rights of humans. Throughout the weekend, I was blessed to meet many amazing individuals who reflected on their identities and had dreams of carrying the event to other locations around Nashville and to other cities. It was refreshing to meet so many people who worked together to create unity in the collaborative art piece as well as in their lives."
The Unity Project was created in June of 2016 as a response to the divisiveness and negative rhetoric in American politics. Since its conception, the Unity Project has been completed in more than 20 countries.