Belmont University's Department of Art celebrated senior achievement and graduation with its annual exhibition of senior studio art and art education majors. The exhibit culminated with a reception and art crawl that included the presentation of senior design portfolios in the Leu Center for the Visual Arts Gallery and Lobby on Thursday, May 4.
Participating seniors included Sevoey Anderson, Regan Anne, Danielle Armbruster, Jessi Baumgartner, Sadie Birchfield, Dustin Conway, Kiana Enriquez, Celeste Foust, Absurd Ty Higgins, Madison Kent, Adrienne Li, Grace E Lewis, Lindsey McCartin, Ashley McCormick, Mary Louise Meadors, Ryan Minnigan, Grace Netter, Lauren Newman, Sara Schandelmayer, Gramm Sedano, Jacob Spalding and Chandler Thompson.
This year's gallery includes a variety of art forms, mediums and styles as students have the opportunity to select the pieces they will showcase. Lauren Newman, a senior studying studio art with an emphasis in photography, is passionate about lifestyle and fashion photography, though her extensive portfolio has expanded to include many industries. Her exhibit, titled "Nirvana," highlights diners around Nashville and questions how we view the concept of Nirvana, a transcendent state where suffering, desire and a sense of self is removed. Taking its inspiration from Charles Bukowski's poem, "Nirvana," Newman visited Nashville's most familiar diners and photographed individual booths.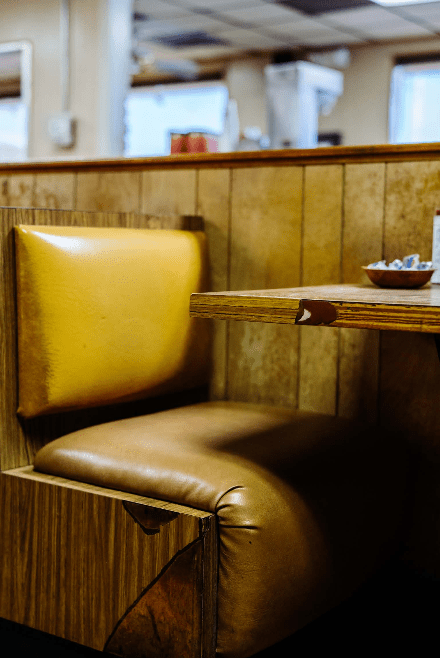 "I challenge the viewer to see them with fresh eyes," Newman said. "Most of these diners have been around for decades and reflect an aesthetic popular to their time. Most, if not all, of these locations have not been updated, but they have instead chosen to retain an original aesthetic. The intention of this work is to evoke a sense of not only nirvana, but also comfort and familiarity that can be found with any diner, no matter where you are."
Madison Kent, an art education student, chose to explore the intersection of faith, art and human emotion in her pieces. Born from a place of tension — faith and anxiety, the flesh and the spirit and peace and affliction — Kent's exhibit seeks to understand how anxiety and spirituality can coexist, using color and texture to mimic the complexity of life's stories. Taking inspiration from her own story, Kent said she "uses paint to evoke empathy and give voice to intangible emotions. While emotionally charged, these paints are also rooted in meditations surrounding biblical passages, hymns or phrases that have provided hope in the midst of my personal struggle with anxiety and panic attacks."
Embarking on her own journey to seek hope when despair was easier, Kent said her art followed suit. Though she didn't intend for hope to become some a prevalent theme as she planned to focus on the tension between mental illness and spirituality, her own lessons of choosing hope came through in her creations. "As I learned that hope could exist within the tension, it started to seep into the work," Kent said. "The colors softened and my marks became gentler."
Seeing her pieces as an opportunity to impact her viewers, Kent encourages the tension between these very different ideals. "Humans so often run from this tension, even though sometimes it is where we should pitch our tents and dwell for awhile, rather than choosing a side," she said. "The tension makes us uncomfortable. It shakes us and forces us to decide what we believe is true and where we place our faith. I have found hope in this tension…Like these paintings, life is layered, colorful and abstract. In the face of anxiety, insecurities or whatever storms may come, we must seek out the words, beliefs and people that give us strength to confront the tension in our hearts and to choose hope in the midst of woe."