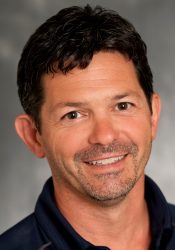 Professor of Physical Therapy Dr. Patrick Sells was recently honored by the Greater Nashville Affiliate of Susan G. Komen as part of the 2015 class of Pink Tie Guys.  Dr. Sells was among nine individuals from Middle Tennessee who were recognized this year.
The Pink Tie Program honors  influential leaders who help mobilize, energize and engage audiences in the breast cancer movement through their role within the community, their organizations and their personal involvement. Pink Tie Guys are leaders who bring a male voice to the urgency of finding the cure for breast cancer.
It was Sells's interest in service that first led him to get involved with Komen and the Race for the Cure. His interest was heightened following the passing of his grandmother, who happened to be a 20 year survivor of breast cancer. After her death, Sells spent a great deal of time contemplating the courage, strength, determination and faith required of someone facing breast cancer and became increasingly interested in finding the cure.
Sells, along with 2014 Pink Tie Guy and fellow Belmont professor, Dr. Mike Voight, coordinates more than 100 student volunteers from Belmont's School of Physical Therapy for the Race each year.  These students were recognized in 2013 by Komen International as the Outstanding Volunteer Group of the Year.