Belmont's College of Sciences and Mathematics has hosted its  Science Undergraduate Research Symposium (SURS) every fall semester since the 2004 inaugural event where 27 presenters participated. This year's event, held Dec. 3, featured more than 55 student participants and included SURS keynote speaker Dr. Christopher Raridan, associate professor of mathematics at Clayton State University. Raridan presented on "What Undergraduate Research Means to Me."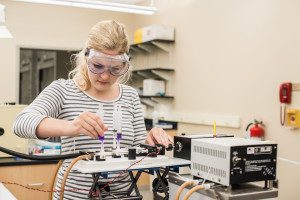 This year's event saw 58 students who presented research posters in biology, biochemistry and molecular biology, neuroscience, environmental science, chemistry, physics and honors-psychology. Additionally, there were 24 individual and group oral presentations in psychology.
SURS was created to provide undergraduate students with an opportunity to conduct independent research and present to a community of peers. With the Wedgewood Academic Center's facilities, students are able to present research posters in the third and fourth floor atriums.
Many students who presented research participated in this year's inaugural Summer Undergraduate Research Fellowship (SURFs) program and began their projects then.
Presented research included:
Biochemistry and Molecular Biology
"A Study of Tumor Suppressor p53's Potential Role in the Upregulation of MARCKS Transcription," Nelly Grigorian
"Mixed Catechin Solution from Rosa centrifolia Suggests Multiple Avenues for Tyrosinase Inhibition," Felicity Newton
"Preventing Cancer By Placement of Special Bacterial Carotenoids in Selected Natural Oils," Robert Fira
"Synthesis of [2,3-b]Selenophene Pyrrole," Daniel Gilani
"Concise Synthesis of 4H-Seleno[3,2-b]pyrrole Toward its Bio-transformation to [4,5]Selena-L-Tryptophan ([4,5]SeTrp)," Jacob Curry
"Effects of Probiotic Fermentation on Antioxidant Activity in Blueberries," Adam James
Environmental Science
"Biodiversity of macroinvertebrates in a first order spring-fed stream on the Belle Forest Cave property, Bellevue TN," Walter Burn
"Comparisons of water quality and macroinvertebrate diversity in Richland Creek (Nashville, TN) – an urban stream undergoing riparian restoration," Alexandria Jeffers
Neuroscience
"Technological Screen Exposure's Effect on Danio rerio's Development," Samantha Gould
"The subcellular localization of the apoptosis signaling kinases Ask1 and Ask3 influence signalosome formation and composition in response to cellular stress," Kathryn Hook
"Circadian Rhythm Dependence of Habituation in C. Elegans," Chase Mackey
"The Effect of Caffeine Concentration and Time of Exposure on C. elegans Locomotion towards an Attractant," Julisa Nunez
"Potential Protective Effects of Nicotine in C. elegans Treated with 6-OHDA," Miranda West
Biology
"Utilization of alpha-lipoic acid as an antioxidant in the presence of 6-OHDA," Danielle Aument
"Chemotaxis Assay of Caenorhabditis elegans to Bacillus thuringiensis strain 4A4 in Vegetative and Sporulated Growth Stages," Angel Brothers
"The Effects of Stress Due to Increased Immune Response on Working Memory in Danio rerio," Lindsey Cheek
"p53 Mediated Regulation of CCNH in Response to Paclitaxel-Induced Mitotic Stress," Taeler Dahm and Morgan Turner
"The Effects of Glucose, Saccharine, Aspartame, and Sucralose on Longevity in Caenorhabditis elegans," Emily Deas
"The effects of statin drugs on memory in Danio rerio," Lindsey Dennis
"Caenorhabditis elegans response to hyperglycemic and hypoxic conditions post infection with Staphylococcus aureus," Bryan Eoff
"Do Tricyclic Antidepressants Affect Working Memory in Danio rerio?" Araceli Garland
"Implications of Parkinson's Disease in Nematodes Treated with the Insecticide Permethrin," Dora Geving
"Caenorhabditis elegans and their Habitats," Jemeilise Guzman
"The relationship between exotic earthworms, exotic plants, and soil and leaf litter invertebrate abundance and diversity," Sara Haney
"Abundance of earthworms relative to leaf litter mass and exotic plant coverage," Laura Horton
"The Effect of Antioxidants on Working Memory in Danio rerio," Donald Hoyle
"Effect of p53 Status on S100A13 Expression in Response to Oxidative Stress," Jeff King
"Role of Fatty Acid Metabolism and the Development of Parkinson's Disease," Zara Latif
"Differences in leaf pack decomposition rate between invasive exotic and native species in a temperate deciduous forest," Lindsay Millward
"Investigation of the Regulation of CST6 by p53 During Cellular Stress," Jasmin Mohn and Robin Weyman
"The Effect on ATP levels of Caenorhabditis elegans from a Staphylococcus aureus Infection," Parin B. Patel
"Biomass and diversity of earthworms is affected by presence of exotic shrubs," Ayda Porkar-Rezaeieh
"Transcriptional Regulation of RGS2 by p53 in Colorectal Cancer Cells," Vian Pulous
"The Effects of Increasing Dosages of α-Lipoic Acid on the Chemotaxis Index of Caenorhabditis elegans at Adulthood," Ambrose Rice
"The Effects of Bupropion on the Working Memory of Anxious Danio rerio," Tessa Shupe
"Transcription Factor p53 and its Regulation of Pro-Apoptotic Gene BNIP3L During Heat Shock," Eeleyah Singh Tanwar
"Decomposition of Acer saccharum and Lonicera maackii leaf litter in a first order stream," Katlin Stodard
"Comparing the Anxiolytic Effects of Anandamides on Danio rerio," Brandy Sweet
"The Effectiveness and Precision of Capillary Assays for Caenorhabditis elegans," Alyssa Tidwell
"Appetite-Stimulating Effects of Herbal Root, Gentiana lutea, on Caenorhabditis elegans," Sarah Trippett
"Determining C. elegans Chemotaxis to Cervical Cancer to Expand On the Nematode Scent Detection Test – A Cancer Screening System," Parker Tumlin
"The addictive effects of nicotine on Caenorhabditis elegans," Jud Wisdom
"Effects of Triclosan Exposure on Embryonic Development, Sensory Functioning, and Working Memory in Zebrafish," Melissa Wolf
Honors- Psychology

"The Effect of Primers on Types of Semantic Satiation," Devon Corcoran, Saniha Lakhani, Morgan McCauley & Riley Wymer
"Effects of Arousing Stimuli on Change Blindness," Ciara Hauber, Lindsey Knapp, Reed Priest & Caroline Snellman
"The Effect of Adding a Congruent Auditory Stimulus to the Standard McGurk," Charlotte Payne, Sarah Maxwell & Dean Adams
"Creativity and its Effect on Ambiguous Figure Detection," Sean Rossettie, Jacqueline Skokna & Lauren Weber
Physics (*indicates presenter)
"Fabrication Protocol of Silver Ion Exchange Glasses," Rachel N. Evans*, Sarah A. Cannavino, Christy A. King, Joe LaMartina, Robert H. Magruder & Davon W. Ferrara
"Fabrication Techniques for Gold Nanoparticles in Solution," Sarah A. Cannavino*, Christy A. King & Davon W. Ferrara
Chemistry
"Sarcinaxanthin's Effects in Sunscreen," Kris Howard
"A Kinetic Study of the Dependence of Ascorbic Acid Concentration on Temperature and Time," Ilyana Ilieva
"Towards the Concise Synthesis of a Tellurium-Containing Tryptophan Analog for the Elucidation of Protein Structure and Function," Ryan Agh
"Synthesis, Characterization and Reactivity of a Copper(II) Imine Complex with Biomimic Properties," 

Caroline Williams, Michelle Leatherwood & Justin Stace

"Characterization of Imine Nickel(II) Complexes and Their Reactivity with Various Solvents," Daniel Beagan, Michelle Leatherwood, Jeanette Krause,(b) Tasneem Siddiquee,(c) Justin Stace (b: University of Cincinnati, c: Tennessee State University)
"Antioxidant Activity in Matcha and Leaf-Brewed Green Teas," Shekinah Baum
"Quantification of Polyphenols and Assessment of Antioxidant Activity of Polyphenols Present in Organic and Non-Organic Raspberries from Different Sources," Sofia Elmaliki
"Surface-Active Properties of Bis-Quaternary Ammonium Cationic Gemini Surfactant Mixed with Conventional Ionic and Nonionic Surfactants," Sarah Heacock
"Cationic Gemini Surfactants for Enhanced Oil Recovery," Adam Woods & Morgan McCauley
Psychology Oral Presentations
"Attention Modifies Emotional Response: A Study on the Effects of Shifting Attention," Chase Mackey, Ragan Clark, Shelby Willard, Carson Ward & Matthew Williams
"The Effects of Food Preferences on Learning Performance in Rats," Austin Arnold, Courtney Canady, Hunter Foltz, Sydney Omweg & Matthew Williams
"Media Exposure and Religiosity," Sydne Richardson, Madi Lausten, Ashton Judy & Bayli Alexander
"Evaluating the Validity and Reliability of a New Scale for Uniqueness Seeking," Ashton Judy, Hunter Foltz, Margaret Rittler, Bethany Strother & Lauren Weaver
"The Effects of Emotion and Color on Sensitivity to Impurity," Kyle Mclean, Brittany McGavic, Scarlet Sanders & Mary Elizabeth Sorci
"The Relationship Between Personality Types and an Athlete's Satisfaction with their Sport," Sydney Omweg
"Does the Attitude of Facebook Profiles Change Self-Perception?" Courtney Canady
"Political Ideology and Interpersonal Attraction," Bianca Flury
"A Validation Study of the Belmont University Measure of Adaptive and Maladaptive Absorption," Madlin Lausten, Katy Coffer, Scarlet Sanders & Brittany Yaeger
"Perception of Intelligence Depends on Voice Intonation," Katy Coffer, Blair Ferguson, Kathryn Graeff & Kathryn Hook
"Does Belief in a Just World and In-Group/Out-Group Membership Affect Perceptions of Suffering," Mikayla O'Malley, Blair Ferguson, Jacob Huffman, Megan Kibby, Justin Lang & Mallory McDonald
"Under Pressure: The Effects of Emotion and Anxiety on the Phonological Loop," Jacob Huffman

"The Effect of Mood Priming and Extroversion on the Perceived Pain of Spending Money," 

Carmen Davisson, Lauren Fox, Emy Gildea, Amber Lowe, Diana Neculcea

 & 

Bri Widmer

"The Differential Effects of Artificial Sweetener and Natural Sugar on Memory in Rats," Morgan Turner, Lauren Weaver, Lindsey Dennis, Ali Miller & Stephane Morin
"The Role of Mind Wandering in Incubation: The Effects of Incubation on Problem-Solving," Stephane Morin, Bethany Strother, Miranda West & Brianna Widmer
"Schadenfreude: Developing and Validating an Effective Measure," Alexandria Gumucio, Emily Fernandez, Faith Pollard, Christina Sorentino & Miranda West
"Validation of the Jealousy in Generalized Terms Scale," Kayla Evans, Haley Foutch, Marlee Graham, Heather Jelonek & Brittany Lebhar
"Gaze and Fixation Time on People with a Handicap," Heather Jelonek
"The Relationship Between Racial Bias and Memory of Medical Information," Courtney Bright
"Voice Pitch Effects on Auditory Working Memory," Nicole Canes, Kayla Evans, Samantha Gould & Courtney Bright
"The Effects of Continuous vs. Intermittent Reinforcement on Learning and Retention in Rats," Allison Ramsey, Haley Foutch, Lyn Deters, Iris Chiang & Briana Anderson
"Attitude and Religiousness Towards Homosexuality," Noelle Browne
"The Relationship Between Parenting Styles and College Students' Alcohol Abuse," Robert Bond
"Young Adults and the Comorbidity Between Social Anxiety Disorder and Cannabis Use Disorder," Caroline Moore