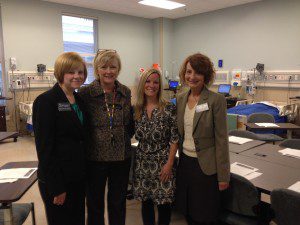 Belmont University's School of Nursing hosted a pre-conference as part of the ninth annual National League for Nursing Technology conference in Nashville on Oct. 24. Participants from around the nation filled one of Belmont's simulation labs for a presentation on the School's integration of an academic electronic health record across the curriculum.
Professors Sarah Tarr, Jean Blank and Dr. Jamie Adam engaged the sold-out audience in hands on learning including selection, use and integration of the technology.
"Electronic health records (EHRs) have the potential to mitigate error, streamline processes and improve communication across the spectrum of health care. Meaningful use of EHRs in chronic and acute care is a major priority in the U. S. health system today. Our faculty have been early adopters of this technology in the classroom, lab and clinical areas and our students and their future patients are the beneficiaries of this work," said Associate Dean of Nursing Dr. Martha Buckner.