Indicating in the close of another academic year, Scholarship and Awards Day 2023 honored the outstanding work and accomplishments of Belmont students and faculty members on Wednesday, April 12 in the Massey Performing Arts Center.
Each year, awards are presented to faculty and students who have exhibited honorable dedication to scholarly achievement and service. "It's a great joy for us to gather as a community because part of what marks Belmont is our connection to each other," President Greg Jones said in a welcome. "We come together to recognize one another, to support and encourage one another."
Student Achievement Awards
Two inaugural student awards were presented from the Algernon Sydney Sullivan Foundation, recognizing individuals who demonstrate the highest standards of character, integrity and service to others and their community. Belmont is the 72nd school among select colleges and universities in the American South to present these non-monetary awards. Each recipient received a certificate and medallion.
The Algernon Sydney Sullivan Award Recipient: Colson Kelley
The Mary Mildred Sullivan Award Recipient: Elizabeth Jordan
The Dr. Fannie Hewlett Award celebrates racial and ethnic diversity by recognizing student courage, leadership and contribution to a culture of inclusion at Belmont. Gus Sneh was the recipient of the undergraduate Dr. Fannie Hewlett Award, and Carsyn Snagg received the graduate equivalent.
Celeste O'Brien received the John Williams Heart of Belmont Award which recognizes a student who has exhibited a range of qualities including service, problem-solving, persistence, and advocacy.
Belmont Graduate Student Awards were given in the categories of leadership and scholarship.
Belmont Graduate Leadership Award: Hanna McClain
Belmont Graduate Scholarship Award: Lindsay Dial
University Writing Awards
The Williams-Murray First Year Writing Award: Ellie Williams ("Why I Like Worms") and Haley Fountain ("Racial Discrimination within the Foster Care System")
The Alfred Leland Crabb Award: First place to Emma Baltz ("Lightning Frog") and second place to Rose Blake ("Utilizing Revival Technology")
The Stacy Awalt Writing Award: Adam Krodel ("Toward a New Art of Pragmatism")
The Annette Sisson First Year Seminar Award: Lizbeth DelaRosa ("Blood Quantum Laws Never Native Enough")
University Hale Leadership Awards
First Year Award: Ava Munyer
Second Year Award: Avery Kyle
Third Year Award: Abby Scalici
Fourth Year Award: Allison Gunderson
Four students were presented with Lumos Travel Awards, which will enable them to "travel with purpose" and fund self-designed "working adventures" for international projects.
Aaron Kleinschmidt– Guadalajara, Mexico
Nardien Sadik– Cairo, Egypt
Ilaria Youssef– Cairo, Egypt
Faculty Achievement Awards
Five categories of faculty achievement awards were presented for commendable representation of Belmont's accomplished teaching community.
Drs. Annette Sisson, professor of English, and Luke Langlinais, assistant professor of management, received the Christian Scholarship Award, presented for scholarship that engages the Christian intellectual tradition and advances the scholarly conversation between Christian faith and learning.  
The Leadership in Christian Service Award honors faculty who provide leadership to a new initiative or to an established Christian organization, connecting the resources of Belmont's academic community to the needs of the world. Professor of History Dr. Daniel Schafer accepted the award. With interests and concerns focused on learning more about race and social justice, Schafer "models for his peers and students what it means to be a man of faith and service."
Recently inducted into the Western Music Hall of Fame in the historian category and considered one of the premiere historians of country music, professor of music business and music industry history Dr. Don Cusic was bestowed the Faculty Scholarship Award. The award recognizes Cusic's "engagement in outstanding scholarly work that reflects and embodies the spirit of the award and the culture of exploring new ideas that benefit Belmont students and community."
Finalists for the Faculty Scholarship Award were Hope Campbell (College of Pharmacy), Lucian Dervan (College of Law), Eduardo Lopez (Massey College of Business) and Luke Petach (Massey College of Business).
Named for Dr. Virginia Chaney who dedicated 37 years to Belmont as a professor of Latin and classics, the Chaney Distinguished Professor Award is determined based on superior teaching in the classroom and was awarded to Dr. Jennifer Crowell Thompson, assistant professor of social work. A student comment stated "Dr. Crowell teaches with a sensitivity and passion with awareness for the various levels of understanding abilities her students have, a drive to change injustices and inequities in Nashville and even greater society, and kindness to all her students. She always has a joyful spirit, and it shows in her teaching."
Finalists for the Chaney Distinguished Professor Award were Steve Guthrie (Theology and Religion and the Arts), Mary Ellen Pethel (Interdisciplinary Studies and Global Education) and Carole Scherling (College of Sciences and Mathematics).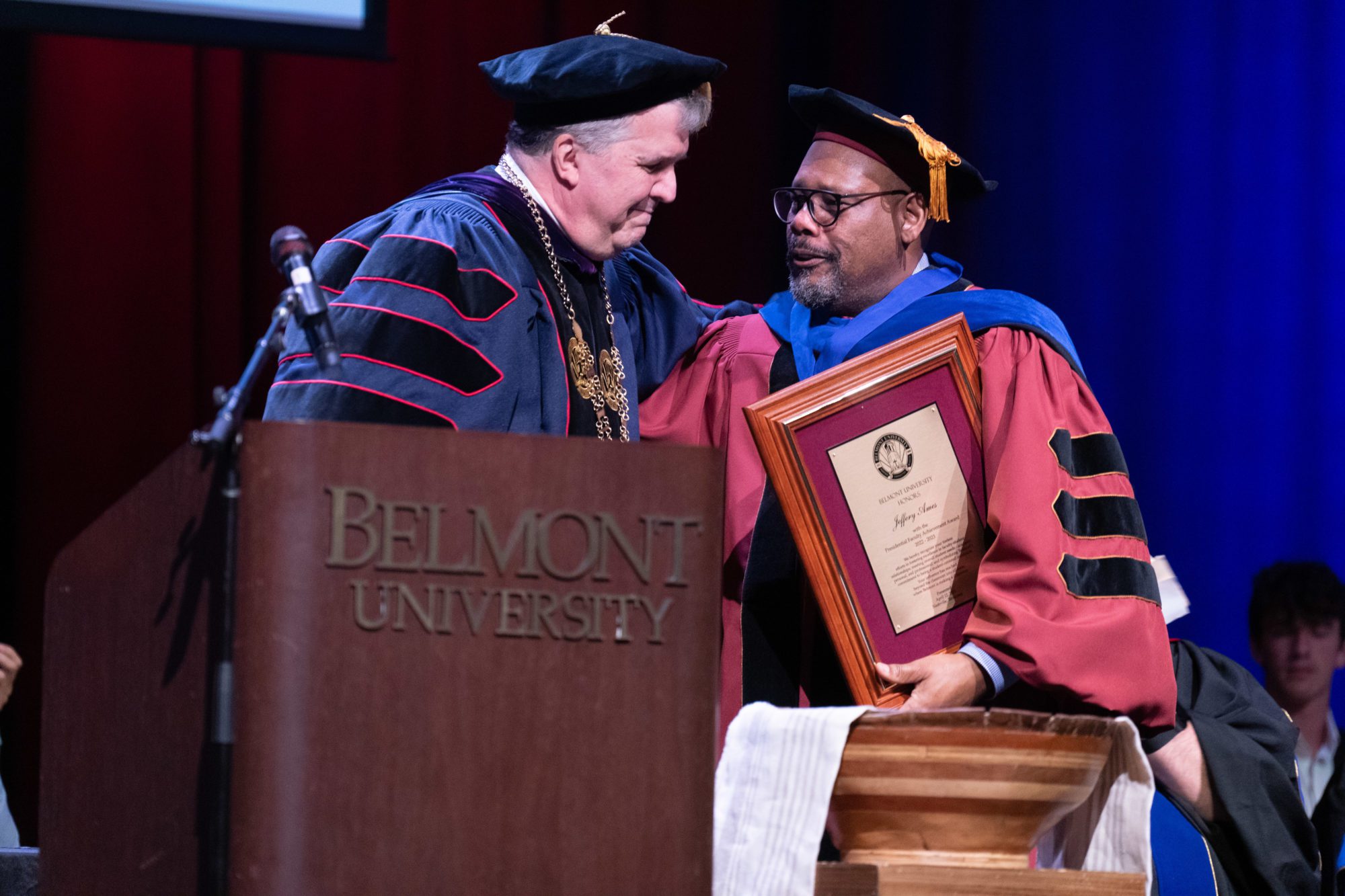 Director of Choral Activities and Assistant Professor of Music Dr. Jeffery Ames was honored with the Presidential Faculty Achievement Award for his outstanding contributions to student life outside the classroom. Ames led more than 450 students of the Belmont Oratorio and Orchestra in his 2022 masterwork debut, Requiem for Colour. The production honored the lives and legacies of enslaved Blacks and the sacrifices made by contemporary Black martyrs for equality and freedom. Quotes from students and faculty members who nominated Ames were read aloud, offering a glimpse of his impact. One student commented about participating in Requiem for Colour. "Getting to be a part of this mass community that he composed was an experience of a lifetime," the student said. "The time he took to explain his reasoning and how much our presence meant to him made those week-long rehearsals a reminder of why we chose music– to be a part of something bigger than ourselves and to change the world."
Finalists for the Presidential Faculty Achievement Award were Christian Williams (College of Health Sciences and Nursing), Jennifer Duck (Mike Curb College of Entertainment and Music Business) and Fernando Diggs (College of Pharmacy).
Provost and Executive Vice President for Academic Excellence Dr. David Gregory also recognized the following faculty members entering retirement: Drs. Daniel Byles, Andrew Webster, Joy Kimmons, Phil Johnston, Karen Robinson, along with Elizabeth Small and Jocelyn Fisher.
"Thank you for your years of dedicated service to Belmont University," Gregory said. "You will be missed. We wish you all the best as you pursue your interests outside of the Belmont community and we hope you will continue to allow us to be a part of your lives."
Click here for additional photos from the event.