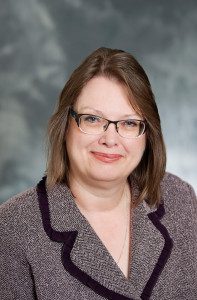 Belmont's Associate Provost Dr. Beverly Schneller recently spoke to the Belmont Distinguished Scholars at Maplewood High School about preparing for and being successful in college.
Schneller spoke at the invitation of Dr. Myron Oglesby. "Dr. Schneller's dedication and support in this program underscores the importance of access to higher education. Truly, the first step toward access to higher education is the ability to bridge the gap between potential and possibility," said Oglesby. "The students who are enrolled in the Belmont Distinguished Scholars program at Maplewood High School are fortunate to spend the morning with her."
The scholars are sophomores, and the program was started with Maplewood two years ago. Throughout the academic year and in the early summer, the Distinguished Scholars visit Belmont and participate in a community garden project. They also have the chance to interact with the Bridges Scholars, audit a class and visit with faculty in the departments where they would like to study. The initiative is in line with the Lumina Foundation and Governor Haslam's efforts to help students make the choice to attend college.