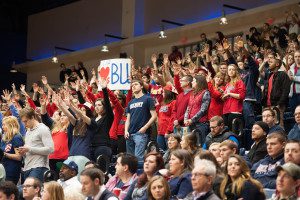 Belmont University invites alumni, friends and family to attend Homecoming 2015 Feb. 26-28 for a variety of special events. The celebration, centered on the theme "Destination Belmont," will feature the first Bruin Spirit Walk, two basketball games, a campus-wide canned food drive supporting Second Harvest Food Bank, a homecoming concert and a pep rally and bonfire. For a complete list of all Belmont Homecoming 2015 events and an opportunity to register, click here.
Julie Thomas, associate director of Alumni Relations, said, "Homecoming at Belmont University continues to grow into a true celebration of university life, and Homecoming 2015 is no exception. We view our alumni as part of our extended family, and we hope they will come home to experience the music, art, sports and friendships reminiscent of their time at Belmont. To quote the author John Ed Pearce, 'Home is a place you grow up wanting to leave and grow old wanting to get back to.' It's time to come home and fall in love with Belmont all over again."
HOMECOMING 2015 HIGHLIGHTS
All Month
Students, faculty, staff & alumni will strive to reach 1,000 donated canned food items to benefit Second Harvest Food Bank (across campus)
Tuesday, February 24
7 p.m. Battle of the Bruins talent show and fundraiser (Massey Performing Arts Center – MPAC)
All athletic teams will be showcasing their talents to raise money for Special Olympics!
Thursday, February 26 (Wear Blue Day)
5-7 p.m: Homecoming Pep Rally and Bonfire (Gravel Lot at corner of 15th and Bernard Avenues)
Friday, February 27
6:30 a.m. Annual Polar Bear Run 5K
10 a.m. Homecoming Chapel with William Paul Young, author of The Shack (Wedgewood Academic Center Chapel)
7 p.m. Homecoming Concert (Massey Performing Arts Center)
"Homecoming in the Round" – Hosted by Gordon Kennedy and Chris Rodriguez and featuring performances by Belmont alumni and special guests including Benji & Jenna Cowart, Two Story Road (Brandon & Jamelle Fraley), Cheryl LuQuire and Adam Stark, among others. Tickets are free and open to the public but required for admission. Click the link above, and enter "alumni" as the passcode.
Saturday, February 28 (Wear Red Day)
11 a.m. Bruin Spirit Walk (Beaman Student Life Center Lobby) & Tailgate at the Tower (Bell Tower)
For the first time, Homecoming guests will send the men's and women's basketball teams to victory as they walk through the Beaman on their way to pre-game preparations. Immediately following, the Homecoming Tailgate will begin at the Bell Tower. Attendees will receive a special Homecoming 2015 gift!
11:30 a.m.- 1:45 p.m. Back to the Blvd (Restaurants on Belmont Blvd)
Come join Young Alumni Council members on the Boulevard for "Restaurant Rounds." All alumni welcome!
Look for Young Alumni Council members at PM, Chago's and Blvd Nashville. Bring your "I Am Belmont" card to receive special promotions and discounts.
11:30 a.m. – 1:30 p.m. Office of Career and Professional Development Open House (Gabhart) To RSVP, click here.
11:30 a.m. Tower Society and Classes of 1955, 1960, 1965 Reunions (Vince Gill Room) To RSVP, click here.
12 p.m. Class of 1995 20th Reunion (Office of University Ministries) To RSVP, click here.
12 – 1:30 p.m. & 4  – 4:45 p.m. All Alumni Homecoming Social (Foutch Alumni House) To RSVP, click here.
1:30 p.m. Alumni Memorial Carillon Concert (Bell Tower)
2 p.m. Women's Basketball vs. TSU (Curb Event Center)
4 p.m. SGA President's and Vice President's Reception (Foutch Alumni House) To RSVP, click here.
5 p.m. Men's Basketball vs. TSU (Curb Event Center)
Homecoming Court announced at halftime.
7:30 p.m. Young Alumni Homecoming Social (Soulshine Pizza Factory) To RSVP, click here.