Ruta Sepetys was featured as the guest speaker at the Belmont Auxiliary Partners Fall Luncheon on Tuesday, September 26. Sepetys is an internationally acclaimed author of historical fiction whose works have been featured on the New York Times Best Seller List. She joined the Curb College Board of Advisers in 2004, taught within the college for a few semesters and now serves on the Motion Picture Advisory Board.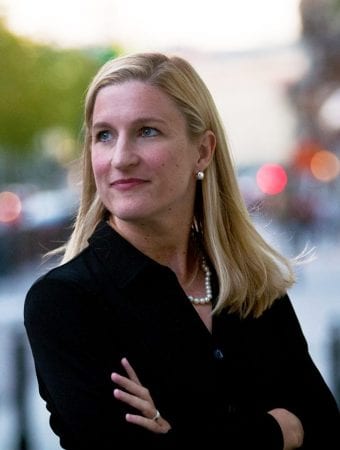 As the daughter of a Lithuanian refugee, Sepetys comes from a line of interesting pasts–stories she calls "hidden history." These stories, and more, have influenced the writing career she never expected to launch–but is grateful to have found. As a young girl, Sepetys said she dreamed of being an author, but after being chided when her teacher read her first book in 3rd grade, she turned her attention to other things. Now, she is celebrating the chance to tell the stories she believes the world needs to hear. "I'm a believer that often history isn't really lost, it's just hiding," Sepetys said. "That applies to personal and family history as well. I'm passionate about bringing underrepresented stories out of the dark."
Her latest novel, Salt to the Sea, revolves around the largest maritime tragedy in history, the sinking of the Wilhelm Gustloff, a story Sepetys said all people should be familiar with, but unfortunately are not. During her research, she had the opportunity to speak with a group of divers who were tasked with exploring the sunken ship's treasures. One of those treasures included a message in a bottle from a refugee who had lost her daughter and husband in the chaos. She wrote, "I don't know if anyone will ever know what has happened to us…"
This is the reason for Sepetys's life's work. "This woman was so desperate for someone, anyone, to know her story that she wrote it down and threw it into the sea," she said. "You are that person. As readers, we can give voice to people who think the worlds has forgotten them. These are stories of loss and pain, but also hope and change. By reading hidden history, you are saying to human beings, 'I know your story. The world has not forgotten you.'"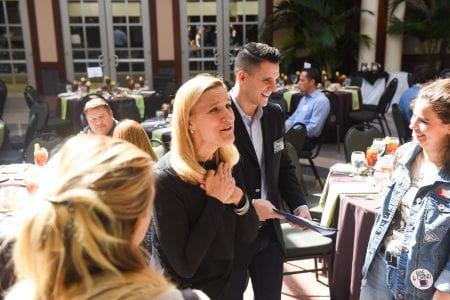 Known as a "crossover" novelist, Sepetys's books are read by both students and adults worldwide. Prior to publishing her first novel, she spent twenty years in the music industry helping artists and songwriters distill story through song. Sepetys is the first American crossover novelist to address both European Parliament and Library of Congress. She was awarded The Rockefeller Foundation's prestigious Bellagio Resident Fellowship for Salt to the Sea. Ruta was recently bestowed the Cross of the Knight of the Order by the President of Lithuania for her contributions to education and memory preservation.
Belmont Auxiliary Partners has provided scholarships for many deserving students who otherwise might not have had an opportunity for a Christian education. Anyone interested in the mission of Belmont University is welcome to be a part of the Belmont Auxiliary Partners, including Board of Trustee members, alumni, faculty and staff (and their spouses/family members) and community members. The Belmont Auxiliary Partners group meets twice annually, in the spring and the fall, with a luncheon meeting featuring a guest speaker.