Selected to work alongside Senior Ride Nashville to build deeper connections to community agencies
Christine Rogers, assistant professor of art, was recently selected to serve as a Learning Lab Resident alongside Senior Ride Nashville for the Metro Nashville Arts Commission. Embedded in local government and nonprofit offices over the next nine months, Rogers and the four other residents will work to gain a deeper understanding of their partner agency's work, while honing and diversifying their own skills.
The selected organizations align with Learning Lab's current focus areas of transportation, affordable housing and aging populations and include Metro Nashville Health Department (artists Simone Body and Aaron Doenges), Metro Nashville Social Services (artist Kristen Chapman Gibbons), Faith Matters Network (artist Diego Gomez) and Senior Ride Nashville.
"My goal is to help amplify and advocate for their organization and the great work they do providing transportation for senior citizens in order to increase volunteers and awareness of the program," Rogers said. "In civic practice work, outcome is more important than output. The final product is often times the biggest concern of most visual artists, but in this case, the concern is trying to find measurable outcomes within the organization as a result of this partnership."
Rogers hopes to get her students involved in the work as she provides service learning experiences to them over the next nine months.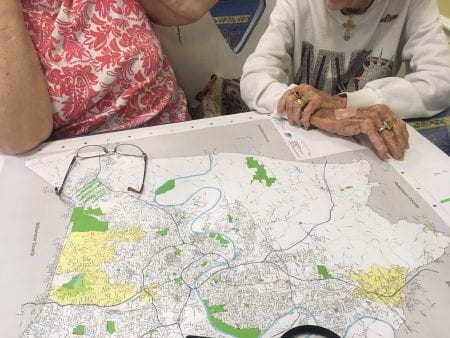 To prepare for the launch of her residency, Rogers partnered with Senior Rode over the summer and began her research. She took riders and drivers to lunch, discussed their experience with the organization and has since begun a mapping project of their work. "I hope to expand this into a photographic and narrative direction," she said. "It's still in the early stages of the process, so there's a wide open field as to what progress will look like, but I am very excited to bring my artistic skills into the realm of local nonprofit work."
All five residents are members of the 2018 cohort of Learning Lab, Metro Arts professional development program to train artists in civic, public, social and placemaking practices. As Learning Lab artists bring their unique perspectives and abilities to service agencies, they diversify their portfolios and learn to translate their artistic talents into the non-arts sector.
"During the Learning Lab training, we help artists identify specific skills and tools that can be translated and applied to a multitude of economic and professional development opportunities, including deep community partnerships," said Metro Arts Executive Director Caroline Vincent in a recent press release. "We are expanding the notion of whom artists can work with and how they execute the work, and in the process are transforming the way artists are viewed and how they can be in partnership with community."