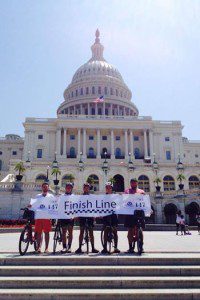 Rising Belmont senior Brennon Mobley and rising junior James Richfield, along with alumnus JD Hartwig ('14), recently completed their cross-country Riding with a Reason trip. The 3,300-mile bike trip started in Oceanside, Oregon in mid-May and was completed in Washington, D.C. last week, raising more than $58,000 along the way for 147 Million Orphans, a Middle Tennessee-based nonprofit organization that raises awareness for orphans and provides them with food, water and medication. The funds will be used to finance a school building in Mount Olivos, Honduras and fill it with basic supplies, desks, chairs, books and uniforms as well as secure teachers' salaries.
U.S. Rep. Marsha Blackburn, R-Tenn., made a statement in front of Congress on June 27, honoring the team for their good work, noting, "Cycling across the country is a certainly a noble endeavor. Nobler still are the 147 million reasons these three men are offering up their summer with blood, sweat, tears and bike tires… I ask my colleagues to join with me in celebrating the loving-kindness of Brennon Mobley, James Richfield and JD Hartwig as we all continue the sacred work of protecting and serving the least among us."
Read more about the Riding with a Reason trip here.