$10 million renovation includes significant technology, aesthetic upgrades to spark collaboration, innovation and growth
Thanks to a generous lead gift from the Jack C. Massey Foundation, today Belmont University celebrated the grand re-opening and dedication of the Massey Business Center following an eight-month renovation. The $10 million makeover gives a major facelift to the 25-year-old building, but more importantly, the renovation offers significant advances in technology resources and space optimization to provide an exceptional and collaborative education space for business students and community leaders.
Belmont President Dr. Bob Fisher said, "Jack Massey is a legend not only at Belmont and in Nashville, but in business nationwide. His unparalleled success sets high standards for our students to emulate, and his investment in this University—a commitment his family continues to this day—is a tremendous model of building a legacy that changes lives. I believe he'd be well pleased with how this renovation raises the bar yet again on the exceptional education provided by Belmont's Massey College of Business."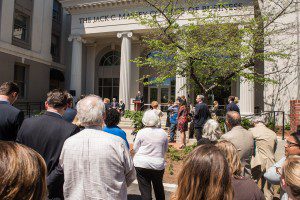 The Massey Business Center is barely recognizable as compared to its previous incarnation, as the renovation provided major upgrades and modernization of classroom, meeting and office space throughout the building. In addition to expanding the lobby and adding a central staircase, the second-floor atrium is dominated by a glass-enclosed, state-of-the-art financial trading center with a full data wall and 36 high-end FlipIT computer desks. In 2005, Belmont was the first University in Tennessee to open a financial training laboratory, and now the newly expanded and enhanced Jack C. Massey Financial Information Center will further enable undergraduate business students to access and analyze financial information in a completely interactive environment, gaining invaluable hands-on experiences using some of the most up-to-date and sophisticated equipment available.
Another exciting addition can be found in the second floor Accelerator space for entrepreneurs. With entrepreneurship leading the way as the Massey College of Business' fastest growing major, the Accelerator space is designed to help take new businesses to the next level. Student entrepreneurs must apply to take part after successfully launching a business. Once accepted, the Accelerator space provides a comfortable and creative setting and personalized mentorship, along with a super smart Eno Board that seamlessly functions as an interactive white board computer screen for analog or digital content.
The Jack C. Massey College of Business Dean Dr. Pat Raines said, "This complete modernization of the Massey College of Business was designed to give our students and faculty the ultimate environment in which to collaborate and to innovate. The new surroundings are state-of-the-art, professional and beautiful, and our students will be using the technology they need to succeed in the future."
The Jack C. Massey Foundation, which honors the legacy of one of the country's greatest entrepreneurs and businessmen, provided the lead gift for the renovation in 2014. The late Jack C. Massey (1904-1990) and his family have collectively been among Belmont University's biggest benefactors. The first person in history to take three unrelated companies to the New York Stock Exchange, Massey's gifts helped Belmont establish its undergraduate and graduate business programs and built both the Massey Business Center and the Massey Performing Arts Center. In addition, Massey's gifts have endowed Belmont's Chair in Entrepreneurship, leading the program to be among the best in the nation, as well as the Massey Center for Financial Information.
Barbara Massey Rogers, daughter of Jack C. Massey and a long-time supporter of Belmont,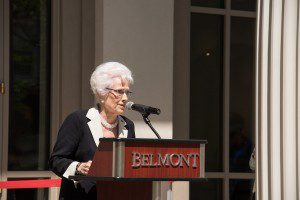 noted, "It is an honor to be a part of the celebration of the extensive renovation of the Jack C. Massey Business Center. I am confident the new facilities will help further propel the Massey College of Business as a top-ranked business school emphasizing ethics and entrepreneurship as my dad, Jack C. Massey, envisioned. His legacy will be everlasting."
Other highlights of the newly renovated business center include:
An HD video conferencing room with 80-inch monitors and multiple cameras. Plans for the room include expansion of University's Healthcare MBA program so that hospitals nationwide can send students to virtual classes
Four-screen Media:Scape room to allow executive and student teams to share digital content and do collaborative research and project management in real time
New multi-functional office and meeting spaces for Center for Business Ethics and Center for International Business
Increased computer lab capacity by 64 percent
Space optimization with all classrooms to account for increased current demand (28 percent rise in undergraduate enrollment for fall 2015) and anticipated future growth
Numerous spaces for collaborations among faculty, students and the local business community
New sustainable features include LED lighting, thermal insulated windows and a third floor green roof featuring numerous perennials and a drip irrigation system
The mission of Belmont's Massey College of Business is to be an innovative, student-centered learning community that prepares entrepreneurial, ethical and socially responsible future business leaders for the dynamic global economy. The College is committed to translating to students the values and work ethic Mr. Massey held dear while offering relevant and practical curriculum taught by experienced faculty members, most of whom hold significant private sector experience.
Jack C. Massey's influence and high standards have inspired a top-tier business school that garners clear and concrete results, as seen in its numerous national accolades, such as:
Top 30 2015 Businessweek Ranking for Part-Time MBA
Accredited by AACSB for both business and accounting, an exceptionally high standard met by fewer than one percent of business schools worldwide
Named a Best Undergraduate Business School by Bloomberg Businessweek
Graduate programs consistently named to 'Best Business School' list by Princeton Review
Top 20 nationally ranked entrepreneurship program
In addition to the many awards, the Massey College of Business also boasts a strong First Destination Rate of 94 percent, an indication of the program's graduates who have secured full-time employment, started graduate school or joined the military.
For more photos from the event, click here.