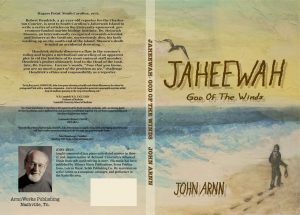 Retired Associate Professor Emeritus of Music in the College of Visual and Performing Arts John Arnn recently published his debut mystery novel, "Jaheewah—God of the Winds." The novel has been released for sale and is available on Amazon.com and locally at Parnassus Books in Green Hills. The story follows a Charleston Courier reporter to Jaheewah Island in South Carolina, where he is set to write a series of marine biology articles. The reporter's plans take a mysterious turn when he finds himself in the midst of investigating what he believes to be a crime scene.
Arnn taught at Belmont's School of Music from 1981 until his retirement in 2007. During his time at Belmont, he specialized in music theory, improvisation and commercial and jazz piano. He also composed many pieces for School of Music ensembles as well as the hymn "Jesus is the Christ," which he co-wrote with his colleague Jan Wilson. Arnn has had his music published by Alliance Music Publications, Fema Publications, Lorenz Music and Selah Publishing Company. He continues to arrange, compose and perform music in Nashville.
To read a full synopsis of the novel or to order it on Amazon, click here.