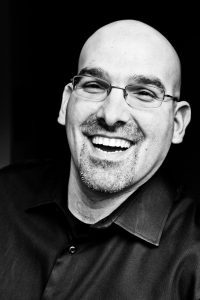 Well-known Nashville entrepreneur Shawn Glinter recently joined Belmont's Center for Entrepreneurship as the Entrepreneur in Residence for the 2016-17 academic year. Glinter will be guiding students in the Center for Entrepreneurship's Accelerator Program who are starting and running their own businesses as well as any other students who want to discuss their business ideas.
Glinter's extensive background in entrepreneurship includes co-founding the water technology company AquaFinesse, which has locations in the U.S., Canada and Europe. Glinter helped grow the company from $600K to $11 million in just the 3.5 years he was involved. He also co-founded the biotech startup Nanoferix and is currently the company's CEO. Nanoferix is working to develop a drug delivery technology to deliver medical therapeutics via a nanosponge.
In recent years, Glinter has also served as an entrepreneurship mentor with the Nashville Center for Entrepreneurship, the JumpStart Foundry, the Co.Lab Accelerator Program, Launch TN and Life Science Mentor Program. He hopes to use his insight gained from previous business successes and shortcomings to help students build more stable startups.
Elizabeth Gortmaker, the director of the Center for Entrepreneurship, spoke of her excitement to have Glinter as a part of her resource team. "Shawn is a successful serial entrepreneur who has mentored over 1,000 companies. He is passionate about supporting student entrepreneurs and is a tremendous resource for our entrepreneurial programming," said Gortmaker. "His experience and guidance provide an incredible opportunity for our students, and we are so excited to have him on campus to mentor our students this year."
Glinter hopes the experiences he's had during his extensive career can serve as a valuable resource to students. "I've been mentoring entrepreneurs of all ages for over a decade,and I find tremendous satisfaction in sharing my experiences with those who are just starting out to help them avoid some of the mistakes that I made early on," Glinter said. "I enjoy providing students with experiential learning that lets them apply their knowledge to the real world so they can figure out what works and what doesn't. Additionally, a lot goes on in college, and balancing the challenges that come with college life can be even harder when trying to operate your own business. Watching students hit their milestones and learn from every turn along the way is tremendously rewarding to me."
For more information on Belmont's Center for Entrepreneurship, click here.